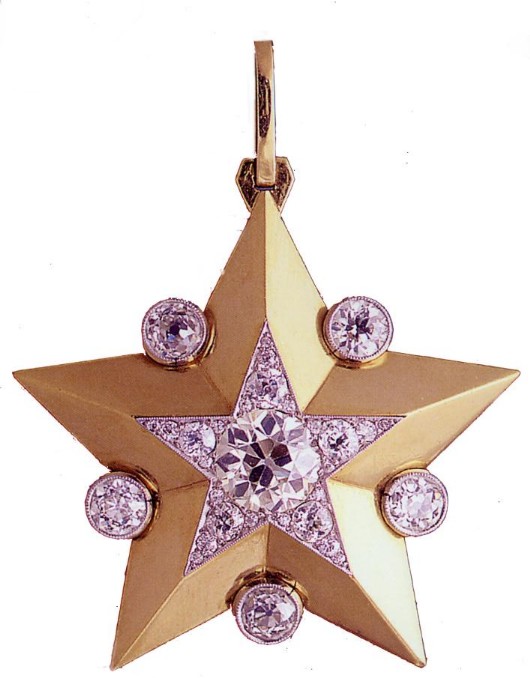 Marshals of the Soviet Union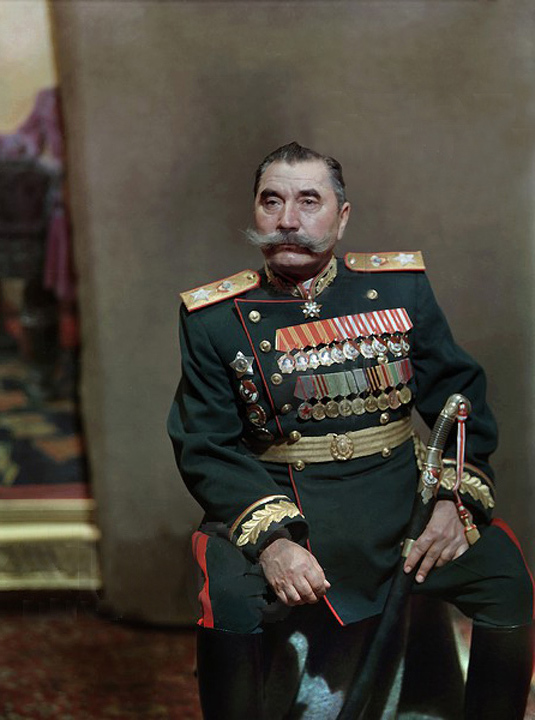 Introduction
Shown on this page are caps worn by the highest ranking officers in the Soviet military - Marshals of the Soviet Union (MSU). Of the tens of millions of Soviet military personnel only 41 individuals (including Stalin) ever achieved this lofty rank after it was instituted in 1935. Their parade visor caps are among the most beautiful - yet dignified - military caps produced in the 20th century.
A thumbnail image accompanies each cap description. Clicking on that thumbnail will bring up a larger, higher resolution image.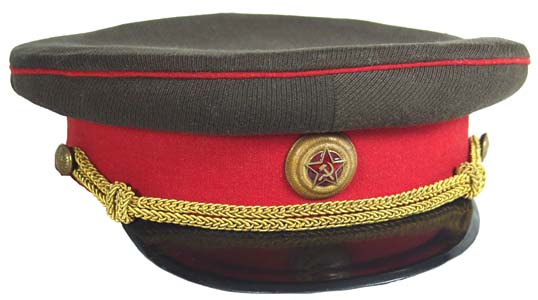 Marshal of the Soviet Union
Service
1940-1954
The combination of this style cap and cockade was worn by both Marshals and Rifle Troops' Generals from 1940 until a new cockade was introduced in 1955. The khaki top signified everyday service wear, although this same cap was often worn during wartime operations by senior commanders and staff. The band and piping are red wool. The round brass and red enamel cockade was introduced in 1940 for marshals and generals, replacing the two-piece red star worn by all officers to that point. This particular cap has the mid-war one-piece version, vice the two piece that was first introduced. Gold cords also became standard for all MSU and general-officer caps after 1940 (except on the rarely worn field cap) and the visor is black painted fiberboard in the semi-circular style. Brass buttons with the Great Seal of the Soviet Union hold the cords in place above that visor. Rare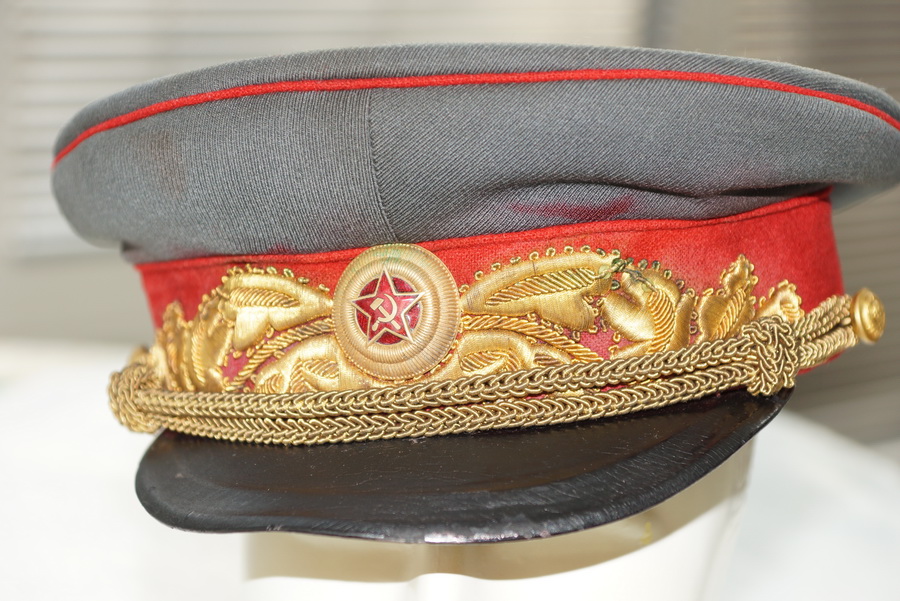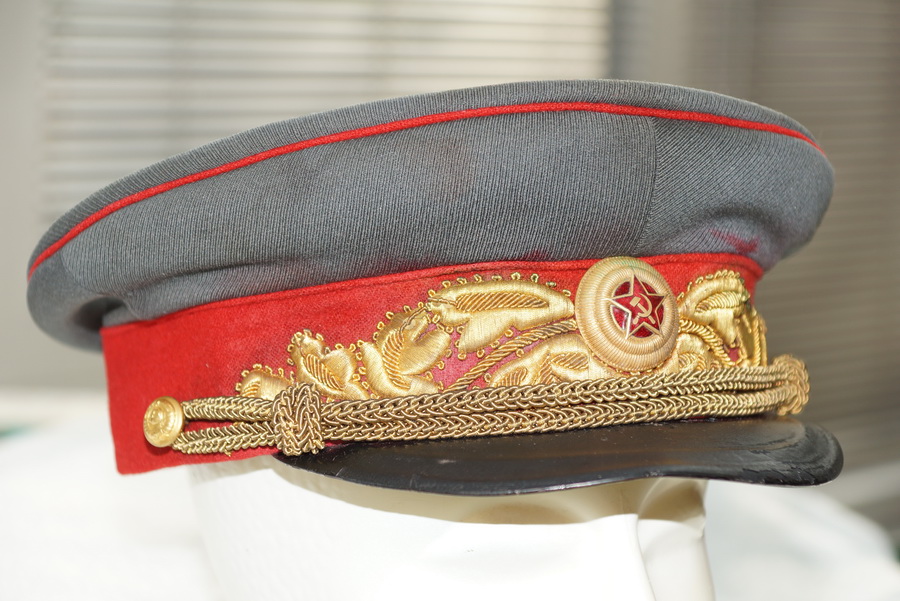 Marshal of the Soviet Union
Parade
1943-1945
Although the rank "Marshal of the Soviet Union" was established in 1935, it was not until 1943 that the first MSU-specific visor cap was prescribed (marshals wore the same service and parade caps as generals prior to that date). This short-lived parade cap was a radical change from the rather austere-looking caps worn by senior Soviet officers previously; with a very heavy application of gold wire embroidery in the shape of trailing oak leaves onto a red wool band. The crown was sewn from fine gray cloth - usually referred to as "steel" color - like that authorized for general-officer parade uniforms in 1940. All piping was red wool. Gilt filigree cords were held in place above the visor by small brass buttons embossed with the Great Seal of the USSR. The round M-1940 general's cockade is pinned to the band. It appears most of these caps were manufactured with a black-lacquered, spade-shaped fiberboard visor (also referred to as "shovel" or "square"); although semi-circular shaped visors (like on the cap discussed above) were also used. Since each of these caps were made-to-order for a particular Marshal, some variation for personal preference existed. This model was superseded in 1945 when the so-called "Victory" parade uniforms in wave green were authorized. Very Rare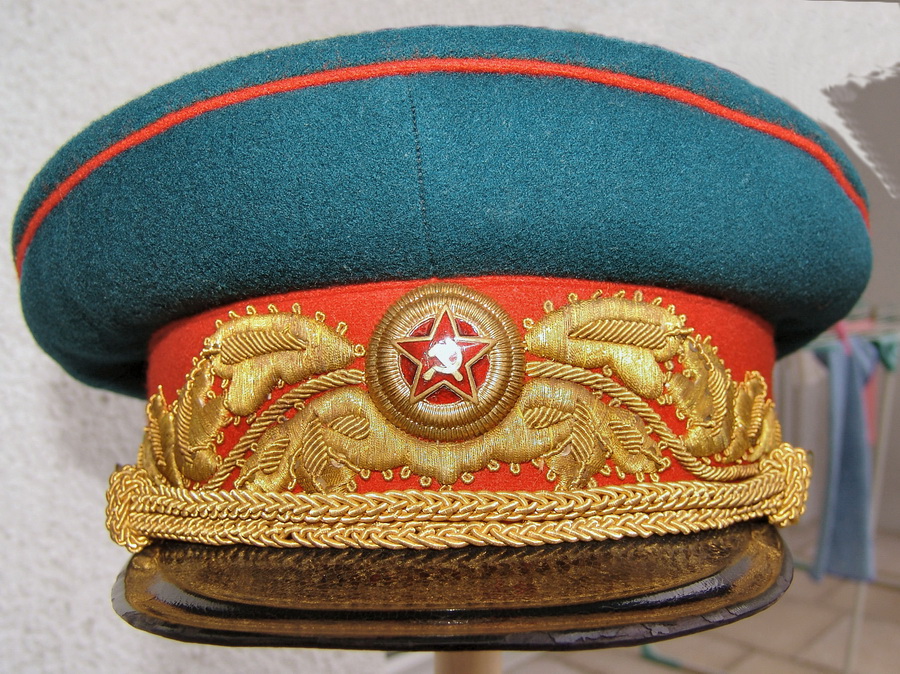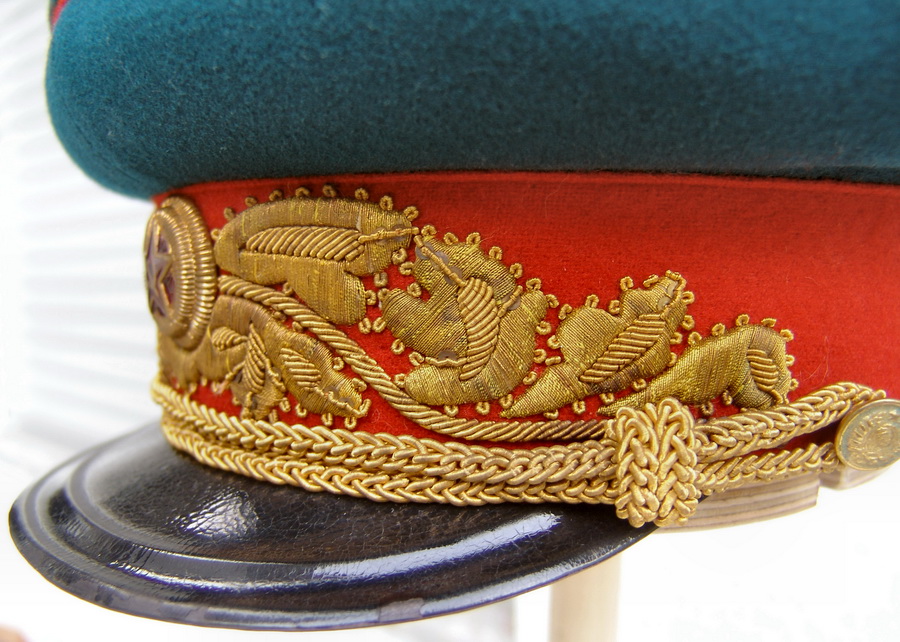 Marshal of the Soviet Union
Parade
1945-1954
This cap was introduced for MSU as part of the M-1945 "Victory" parade uniforms; so-called since they were first worn at the various parades celebrating Soviet victories at the end of WWII. While very similar to the M-1943 parade cap in style, the M-1945 cap was sewn from a blue-green napped wool fabric very similar to the color used by Czarist Army officers. However, instead of being called "Czar Green," this shade was now "Wave Green," in order to establish its proletarian credentials! The gilt bullion embroidery was identical to that used on M-1943 caps; as were the gilt cords and general-grade buttons, the black visor and the red wool band and piping. The M-1940 brass and enamel cockade remained in use until 1955. Very Rare

In 1954, MSU and Army/Air Force generals were authorized a light gray walking-out summer dress uniform intended for social functions. As with other "non-parade" caps, MSU wore the same cap as their Rifles/Motorized Rifle general counterparts; shown here being worn by Marshals Konev and Zhukov in 1955. The band and piping were red wool. As always, gilt filigree cords were held by gilded-brass general-officer buttons and the visor is black painted fiberboard. A new oval two-piece gilded brass and enamel M-1955 cockade is pinned to the crown. This cap remained in use until 1969.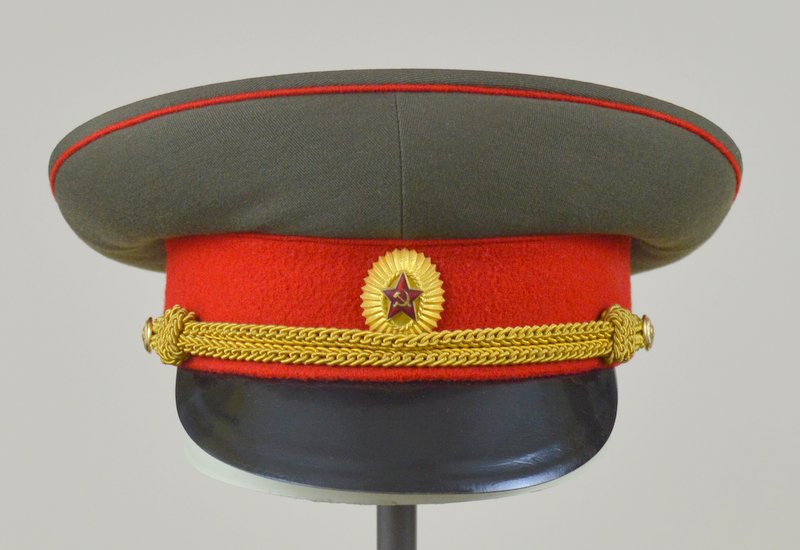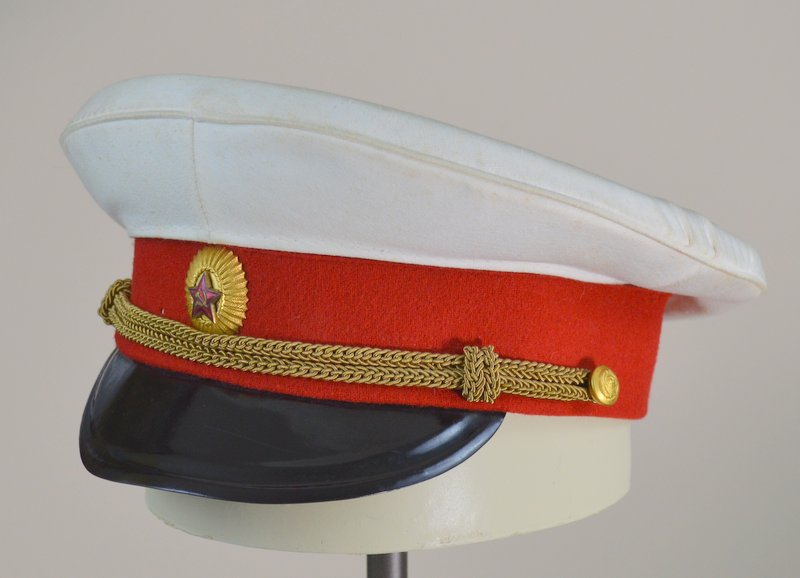 Marshal of the Soviet Union
Service
1955-1979
After 1954, MSU continued to wear a simple khaki and red service cap for everyday wear - like their Motorized Rifle general counterparts. The cap shown to the left is an early model, recognizable by its smaller crown with a heavily padded front. After 1968, the crown was increased in both circumference and height. The cockade is the two-piece all-gilt and enamel "generals" M-1955. Over time, this cockade became one-piece and was produced in a brighter gilt. Golden filigree cords and a now-standard semicircular black fiberboard visor complete the cap. The cap on the right is another service cap but with a white linen summer cover pulled over the khaki crown. This practice was authorized when wearing the white tunic until such uniforms were phased out in 1958. Scarce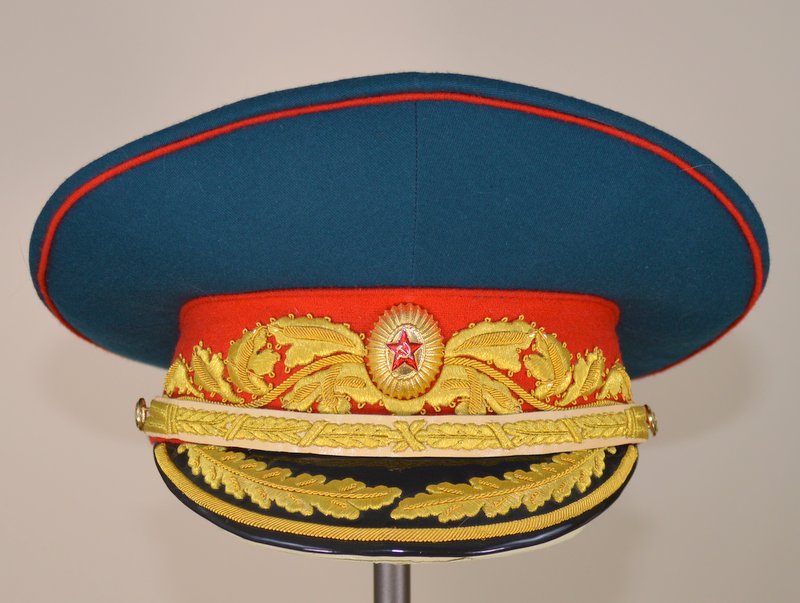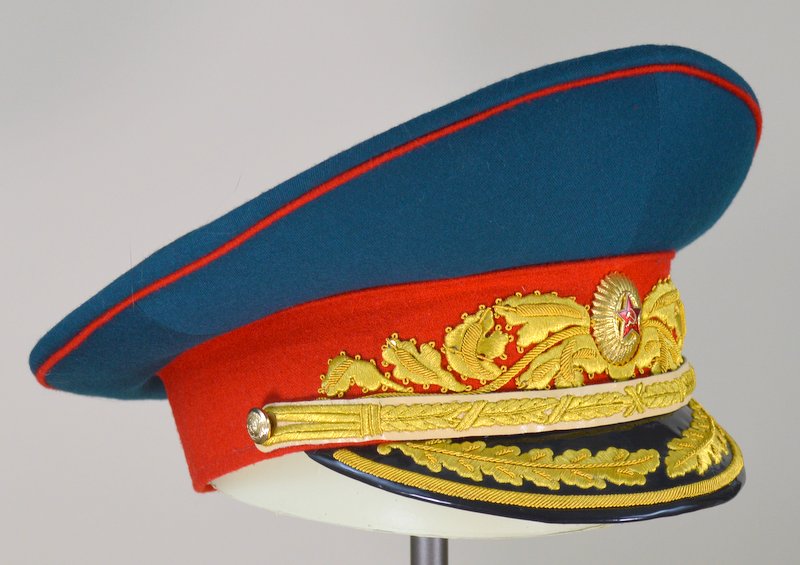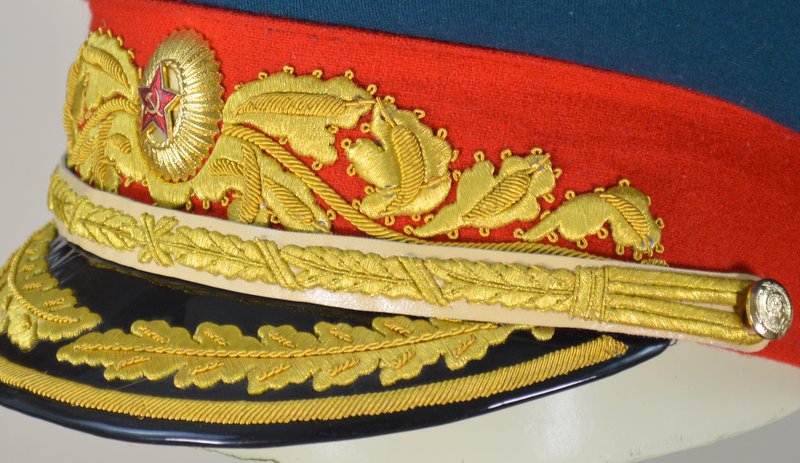 Marshal of the Soviet Union
Parade
1955-1991
A new double-breasted wave green parade uniform was introduced for marshals and generals in 1954, which included some significant changes to the associated visor cap. One significant change was the adoption of patent leather visors with stylized oak leaf embroidery in gilt metal/silk thread. The previous gold filigree cords were also replaced with an embroidered leather strap (with a unique oak leaf pattern) and the M40 cockade with the new oval M55. The height and circumference of the crown also changed over time, increasing in 1969 and again in 1989. The cap shown here is the later M89 style (see the table below for a comparison of the M69 and M89 styles). All these caps had a wave green crown, red band and piping, and a MSU-unique pattern of gold-wire band embroidery very similar to that of their predecessors. The interior of this cap is typical of all general officer caps: silk lining, real leather sweatband and a leather maker's label stamped with the manufacturer and cap size. This maker - 43 ЦЭПК; which translates as "43rd Central Experimental Manufacturing Combine" - was the most common manufacturer of general officer caps. This particular cap lacks a date, signifying its production after 1988 (the last year the 43 ЦЭПК dated its caps). While post-USSR production of these caps continued for the collector market, the quality and finish on this cap suggests very late Soviet production. Rare

As mentioned above, new production standards in 1969 and again in 1989 increased the crown size of all Soviet military caps - including those made for MSU. Shown below are caps from both of these time periods. On the left is a 1971-dated cap, with an undated M89 version shown to the right. In addition to the crown difference, you can also see a color difference in the M55 cockades (with the older cockade being produced in a dark colored gilt (almost orange, like 24K gold) while the M89's cockade is lighter and brighter (this gilt cockade also eventually became one-piece). The quality of embroidery also decreased somewhat, although that is hard to see in photographs. Notice the 1971 cap on the left has an incorrect leather band - a general's model with stylized laurel leaves - instead of the correct oak leaf-embroidered band of MSU. Photographs of MSU indicate even they sometimes had to make due with general's bands, with one photo of MSU Yazov in particular showing a general's strap on his MSU cap.
| | | |
| --- | --- | --- |
| | | |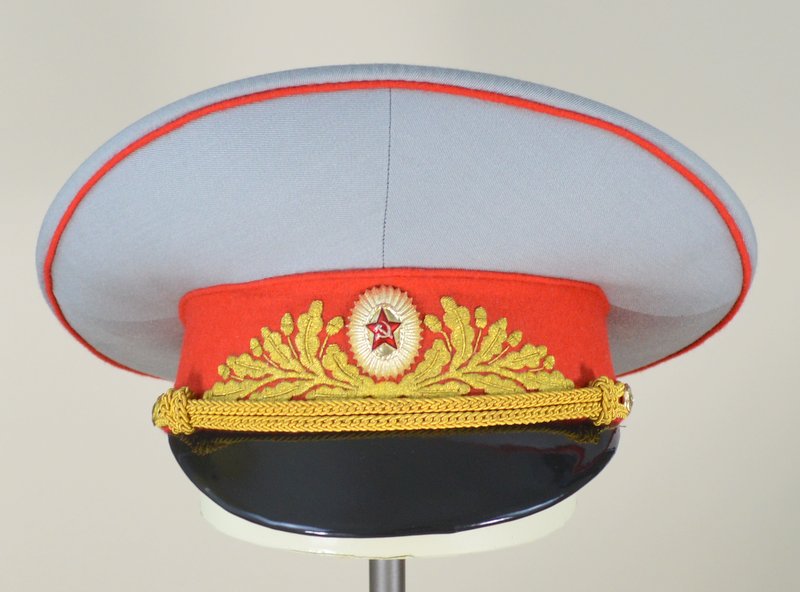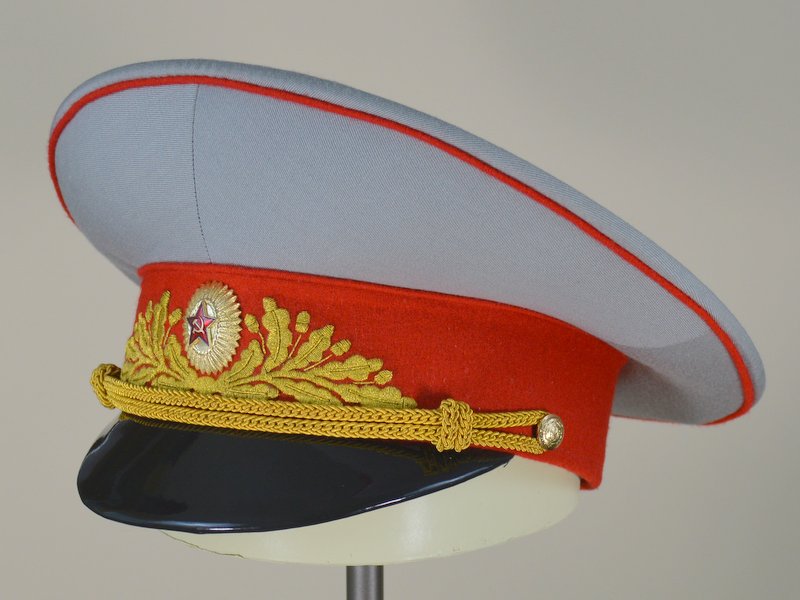 Marshal of the Soviet Union
Parade-Walking Out
1969-1980
Although the interior markings and larger crown lead me to believe this cap was made in the immediate post-1991 era, it accurately represents those in use in the late 1980s and was likely part of the last high quality caps produced by former Soviet uniform factories using residual Soviet-era fabrics and wire. To all but a few collectors, this cap appears identical to gray Army generals' caps common in many collections. What sets this cap apart and identifies it as unique to Marshals of the Soviet Union is the design of the gold embroidery surrounding the general-officer cockade. Whereas Army generals' band embroidery of this period took the form of elongated laurel leaves, MSU caps were done in stylized oak leaves and acorns. As in the above parade cap, the embroidery is done in gilt wire, depicting a pattern of 14 oak leaves and 8 acorns (compare this to the pattern on the service cap discussed below). Other than the band embroidery, the cap is identical to that worn by Army generals. This consists of a light gray cloth crown, red band and piping, and officer's gold cords held in place by two gold colored buttons cast with the Great Seal of the USSR. The visor has a patent leather top covered underneath with black cloth. This cap remained in use until 1980 when the wave green parade cap replaced it for wear with the light gray summer walking out jacket. Very Rare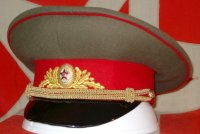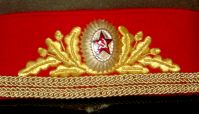 Marshal of the Soviet Union
Service
1980-1991
Pictured here is the everyday cap of a Soviet MSU near the end of the USSR. It is very similar in design and construction to the gray walking-out cap described above, with the exception of the khaki colored crown and the simplified band embroidery. The spray of gold-thread oak leaves is smaller (four leaves per side vice the seven on the gray cap) - which reflects 1989 regulations. The remainder of the cap is of the same style as the walking-out cap; red band and piping, standard officer's gold cords held in place by two gold buttons cast with the Great Seal of the USSR, and a patent leather visor covered underneath with black cloth. The lining is silk and the sweatband is kid leather pierced with a colored ribbon. Again, there is no date which indicates late 1980s or early 1990s production. The date range referenced reflects 1980 regulations that added embroidery to the marshals/generals' service caps in conjunction with the phasing out of the similarly embroidered gray walking-out caps. Rare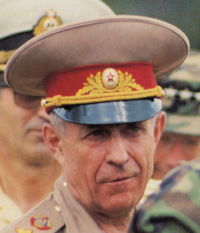 Marshal of the Soviet Union
Tropical Service
1982-1991
This cap first caught the attention of Western observers when Marshal of the Soviet Union Akhromeyev and his escorts visited the United States in the summer of 1988. However, it was subsequently discovered that these caps had been introduced for Army and Air Force officers around 1982 (based on manufacturers' markings) as part of a new shirt-sleeve hot-weather uniform. This uniform was apparently not designed for domestic wear; instead being intended for military officers on diplomatic and advisory postings in Africa and the Americas. The crown is sewn from light tan cotton material, the lining is white linen and the embroidery is shiny golden thread - vice gilt wire. See my Army 1969-1991 page for a picture of a junior officers' cap of this type. Air Force officer caps of this model had, as to be expected, azure-colored bands with Air Force cockades and wings. Very Rare