Caps of the Soviet Army
Introduction
Due to the large number of caps in this category, I have subdivided the Army cap section into the four uniform periods described on my Uniform Periods page to the left. All caps on this page were worn during this period. However, certain uniform elements (including caps) often extended into succeeding uniform regulations. In most cases, I have placed these caps according to the uniform period in which they were first introduced. A thumbnail image accompanies each cap description. Clicking on that thumbnail will bring up a larger, higher resolution image.
Soviet Army caps of the immediate post-war period were largely identical to caps worn during World War Two; although close examination (when possible) does show evolving changes to cloth, buttons and stars in the early post-war period. Except for the soft khaki field caps introduced in 1941, these caps are all generally referred to as "Model 1935" (M35) - indicating the year in which this style was authorized. M35 caps began the practice of identifying the wearer's arm or service (or branch) by differing band and piping colors. These caps were also characterized by spade-shaped (or square edged) visors, although rounded (semi-circular) visors were also worn infrequently, especially by those would could afford to have custom-made caps, such as generals. The crowns of these caps were relatively small and round, with a low rise in the front. Among the few changes introduced towards the end of the immediate post-war period was the authorization of brass leaves on visors of officers' parade caps and allowing those same officers to wear white-topped caps in the summer. Parade caps worn by the common soldier and sergeants remained exactly like those authorized - but seldom worn - during WWII. Pilotkas (also called "envelope" or overseas caps) remained the standard for soldier field and everyday wear.

1946-1954 Immediate Postwar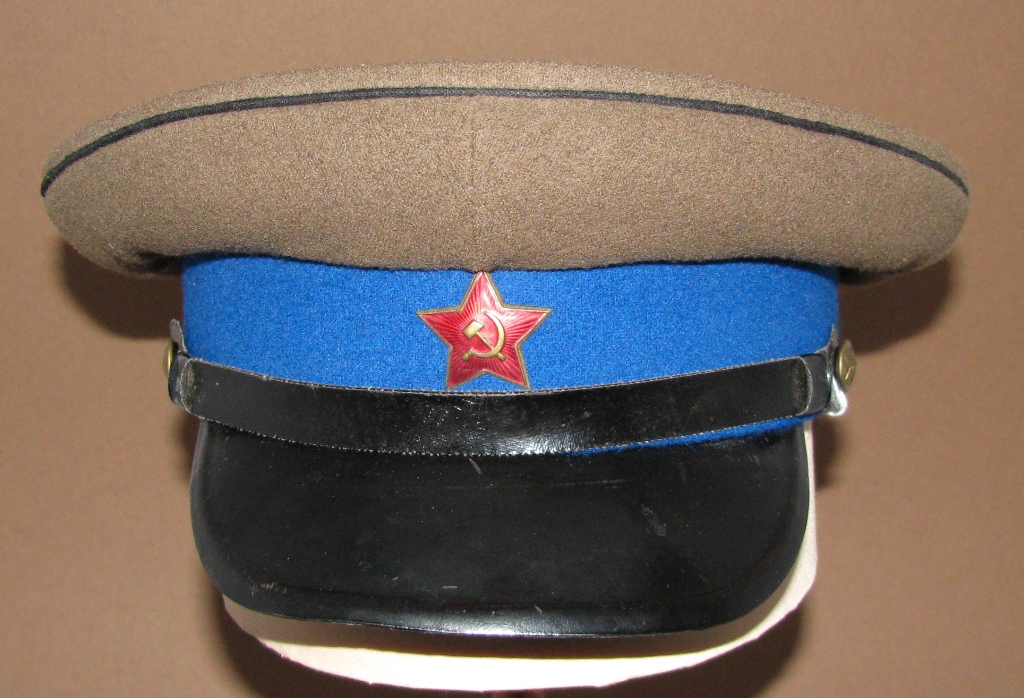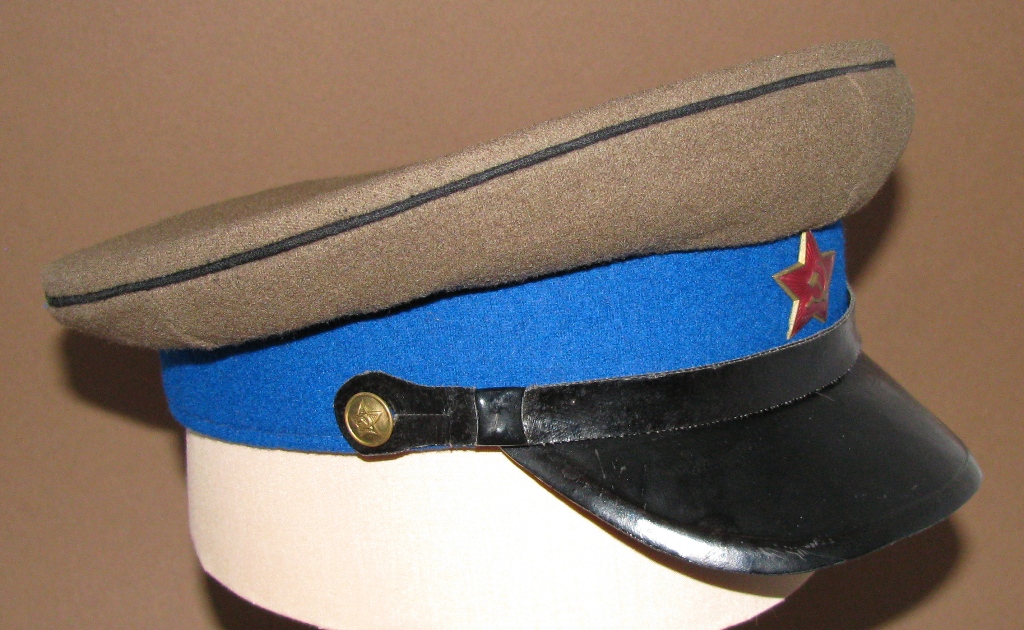 Cavalry
Officer Service/Parade
1935-1950
During the 1920s, Soviet cavalry caps were truly kaleidoscopic; with each regiment and brigade/divisional headquarters and artillery formations having its own unique combination of crown, band and piping colors. A chart published in the Russian uniform magazine "Zeughaus" and illustrated here shows this array.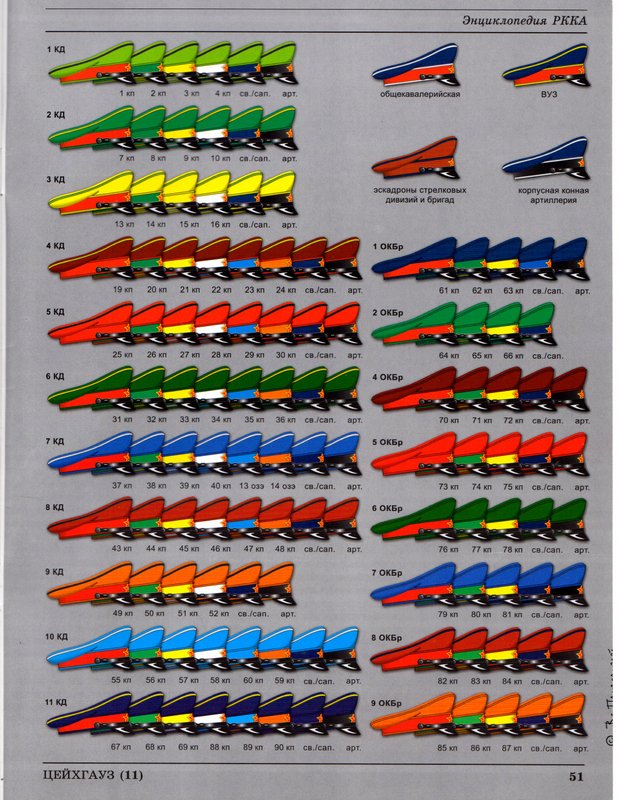 However, colors were unified in 1929, with all cavalry adopting the combination shown here: a khaki crown with "cornflower" blue band and black piping. The cavalry continued to wear this cap for field, service and dress/parade wear until cavalry units were disbanded around 1950. After that date, although the MVD and Border Guards kept some small operational cavalry detachments, the Army downsized to a single ceremonial unit in Moscow. Caps from this ceremonial unit are described in my "Army 1969-1991" section.
The particular cap shown here appears to date from the early 1950s. It has a crown sewn of light khaki napped wool piped in black and with a band of dark blue - the standard post-1929 cavalry colors. The spade-shaped visor is made of fiberboard (cardboard) painted on top in black lacquer. The angle of attachment and the single ridge along its outside edge were non-standard features often seen on officer caps. Most issued soldiers caps had flatter visors. While I list this as a "service/dress" visor - most officers acquired dress caps made of higher quality, darker wool with a distinct green tint. The oilcloth chinstrap worn by all officers and troopers is held with two standard brass army buttons. The red star pinned to this cap is the unified, one-piece model-1947 brass coated steel and enamel variety most commonly seen on postwar visor caps. Prior to that date, red stars differed in construction and size - with both officer's and soldier versions. Brass and enamel stars manufactured in East Germany in the 1940s were also used by the Soviet Army, particularly in units stationed in occupied countries. Rare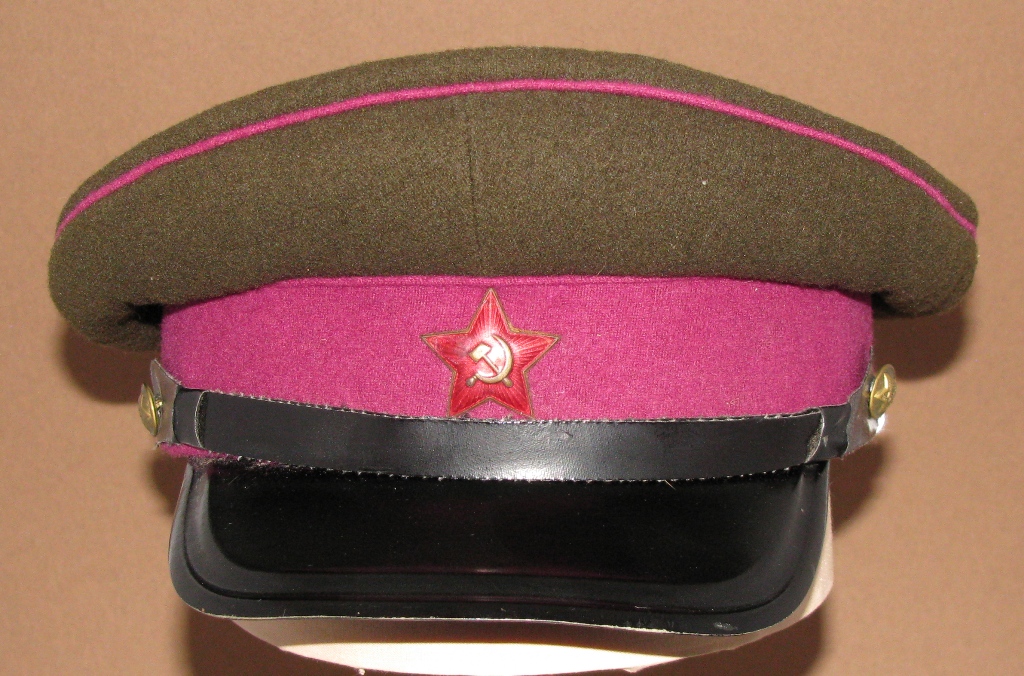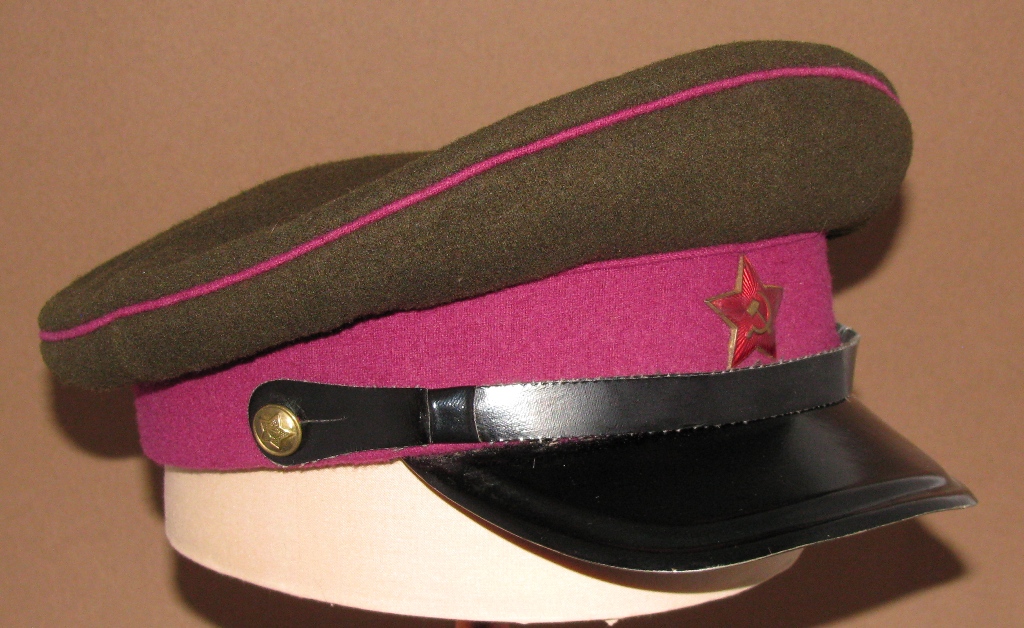 Rifles
Officer Service/Parade
1935-1954
Soviet infantry troops up to 1957 were designated "Rifle" and used crimson (also known as magenta, or in Russian - raspberry; a purplish-pink hue) as their branch color up to 1969. Both the band and the piping on this cap are in this color. Since both officers and soldiers wore a red star on their caps (and these were the same size for all ranks after WWII), it is often difficult to determine what rank soldier wore individual caps from this period. However, this one was probably worn by an officer since its crown is made of high-quality, very dark khaki, the visor is very cleanly painted in gloss black paint (no drips onto the underside), and the inside lining is of sateen - vice the more common rough cotton (see a private/sergeant's version of this cap below). The spade-shaped visor has two parallel ridges along the edge - the most common visor design found on caps from this period. Two brass buttons hold the standard black oil-cloth chinstrap in place above the visor. Scarce

Like the one above, this cap has crimson-colored band and piping, although the hue is a little more pink, reflecting manufacturing variations. More obviously, the khaki of the crown is much lighter - a shade more associated with soldiers' caps and officer service caps; although there is no regulatory basis for such a practice. The square visor is also sewn flatter to the band - another common sign of a soldier's cap. Accessories remain the same.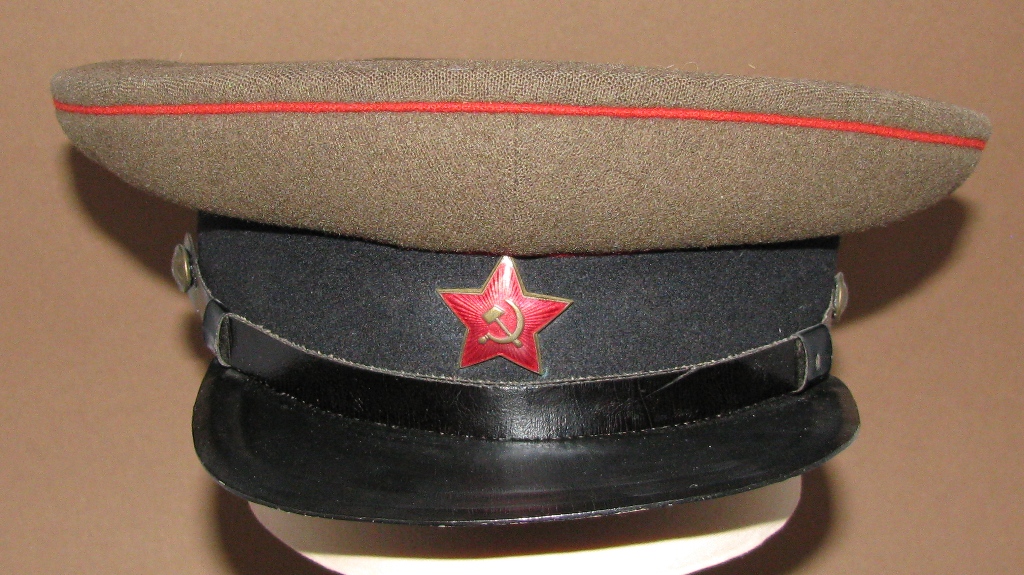 Tank/Artillery/Motor Transport
Private/Sergeant Parade-Walking Out
1935-1954
Black cap bands with red piping during this period signified artillery, tank troops, or automotive (also known as motor) transport troops. Officers of tank and motor transport troops during this period were authorized black velvet bands but privates and sergeants were regulated bands of plain black wool as shown here. This cap also has some unit markings on the inside of the cotton lining - another mark of a private/sergeant's cap. Officers had to purchase their caps from clothing sales stores or have them made special for them and so would not have unit issue markings. Again the visor is spade-shaped with two parallel ridges indicating manufacture before 1955, the star is red enameled steel, the buttons and chinstrap are standard for the time. Scarce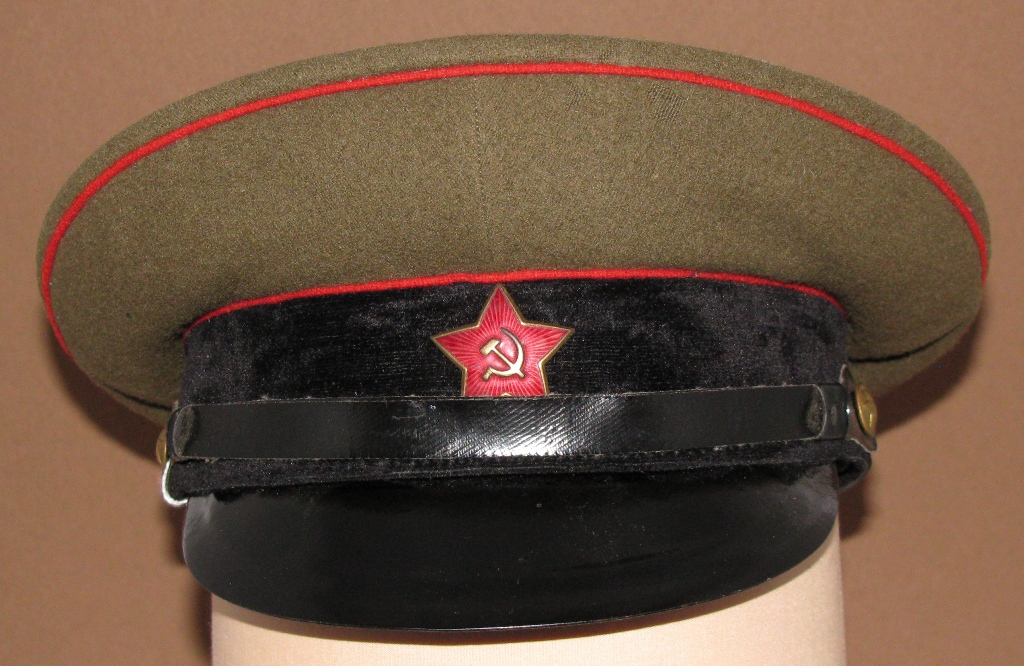 Tank/Automotive Transport
Officer Service/Parade
1947-1954
Only tank or mechanized (automotive transport and self-propelled artillery) officers or career NCOs were authorized the black velvet cap band shown here during this period (VOSO officers were also authorized black velvet but with azure piping). Red piping along with the black band was the secondary color designator of these troop types. The M39/47 star, brass buttons and oilcloth chinstrap are standard for all personnel; although the dark green (vice lighter khaki) wool crown was usually a feature of officers' caps. The rounded (semi-circular) black fiberboard visor is however, unusual - given the stamped production date of 1949. From 1935 through 1946, Army visors were, by regulation, to be spade-shaped. Then, in 1947, regulations decreed new production with rounded visors - as seen here. This, however, was unpopular with some senior Soviet Army commanders and, in 1948, production switched back again to spade-shaped visors. This form remained standard until late 1954, when Army visors returned once and for all to the rounded shape. The particular cap may represent a manufacturer filling a 1949 production order with whatever was on hand (1946-model visors) - a VERY common occurrence in Soviet manufacturing history. This fact alone explains the significant variety in dyes, cloth, finish and sewing you will see. Although the military actually had quality assurance officers assigned to all factories making military goods, not all inspectors were as conscientious as hoped. However, this particular cap was more likely to have been ordered with this style visor reflecting the personnel preference of the officer - regardless of the regulations! The Soviet Army seemed to allow more variation in uniform details than most Western armies. Scarce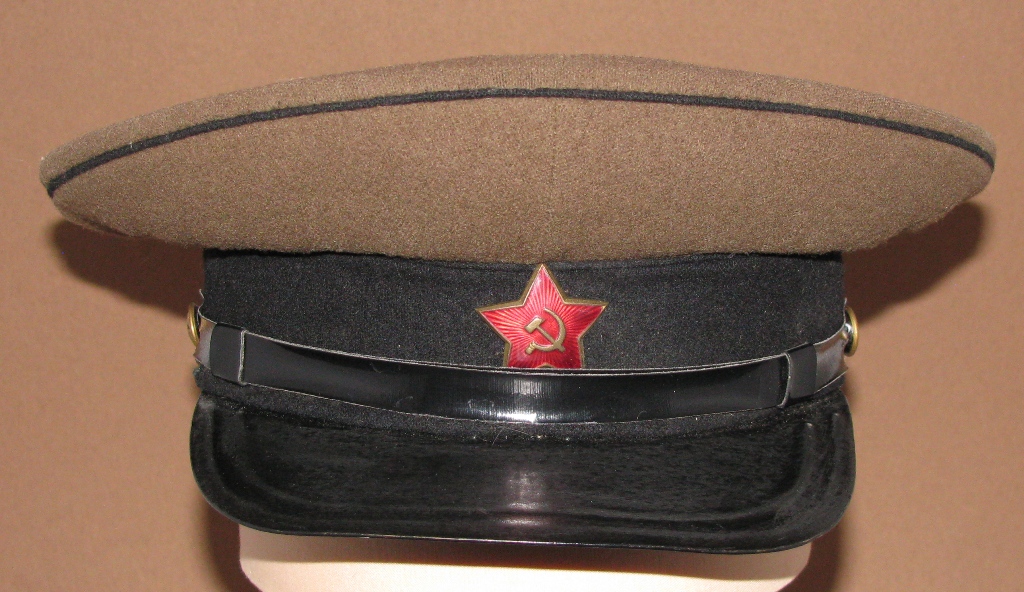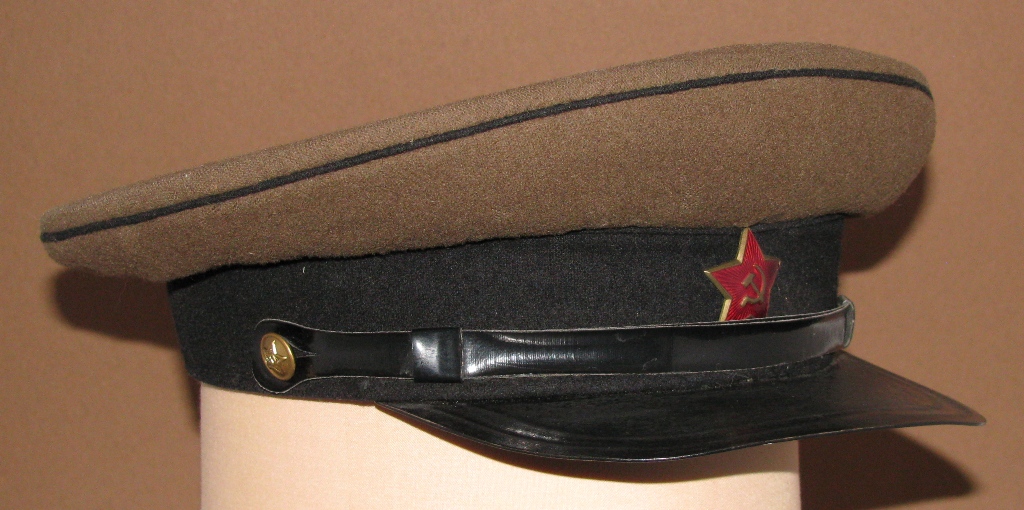 Chemical
Extended Service Sergeant/Officer Service/Parade
1935-1954
This M35 cap is stamped with a production date of 1939 and belonged to an Chemical service extended service sergeant or junior officer. These troops were responsible for both chemical defense and offensive use of chemical weapons and flamethrowers. This control of flame weapons was a rather unique aspect of Soviet chemical troops; in most other armies flame weapons were assigned to infantry and artillery troops. The color combination for this branch was a rather subdued black band with black piping. The band is plain wool (not velvet) and the crown is napped wool. The flat-projecting spade-shaped visor, M39 star, black chinstrap and brass buttons are standard for this period. Rare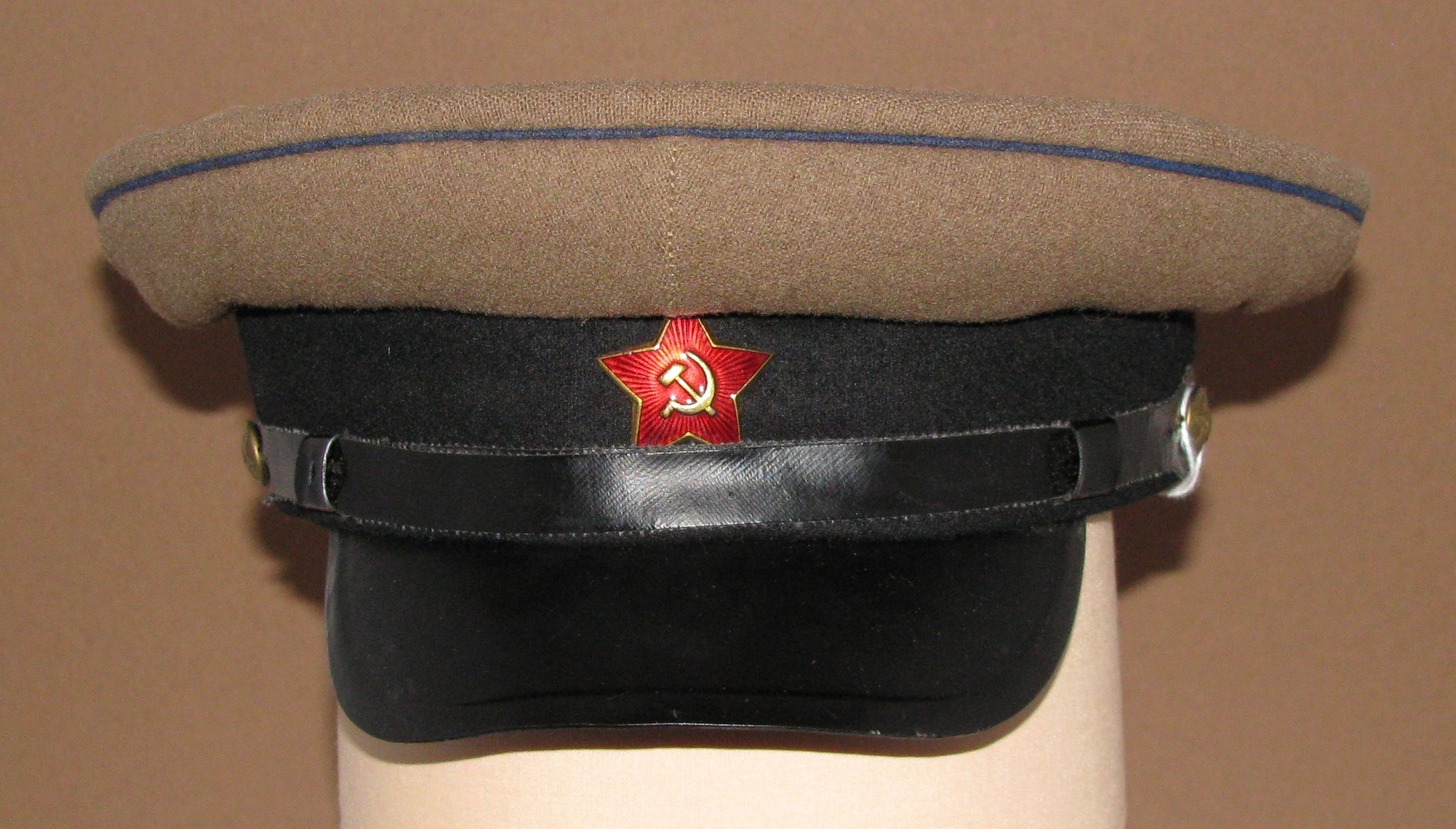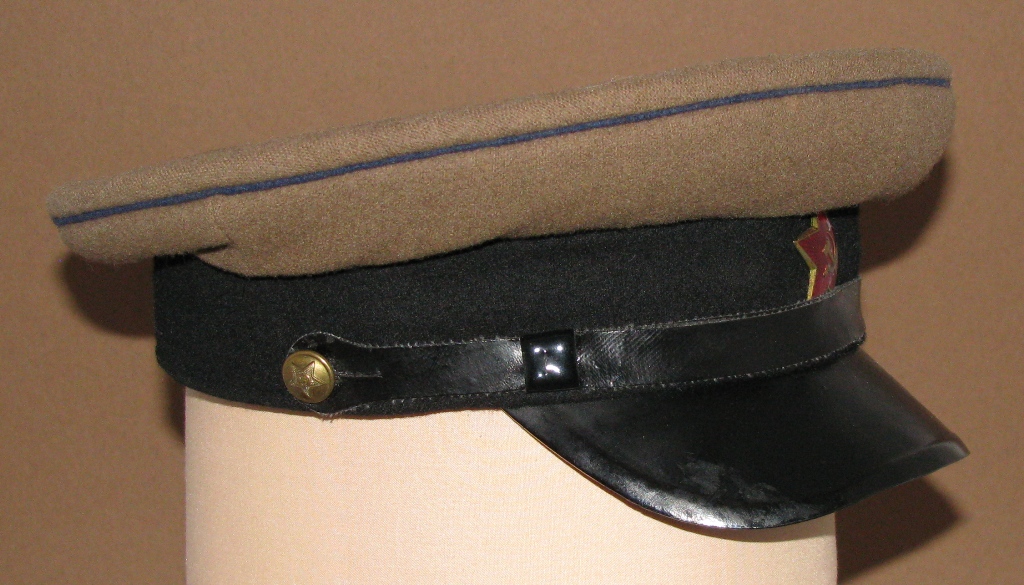 Special Troops
Extended Service Sergeant/Officer Service/Parade
1939-1948
This cap would have been worn by a Special Troops' officer or extended service sergeant for service duty and for dress. Special Troops were a unique grouping of military services responsible for rear support of combat arms' formations. Although the unique black band (wool again - not velvet) and dark blue piping was common to all special troop officers and troops, these troops were further sub-divided into service types distinguished by unique collar and shoulderboard insignia. Components of the Special Troops included: railroad, engineer, signal, air defense searchlight, construction, military topographical, and pipeline troops. Railroad officers and generals of all these branches used different color combinations, however. The crown is light khaki wool and an oilcloth chinstrap is held in place by two brass buttons. The visor is made of spade-shaped fiberboard of an angled design popular with officers, although it was not specifically prescribed in Army regulations. A brass and enamel M39 star is pinned through the band. Scarce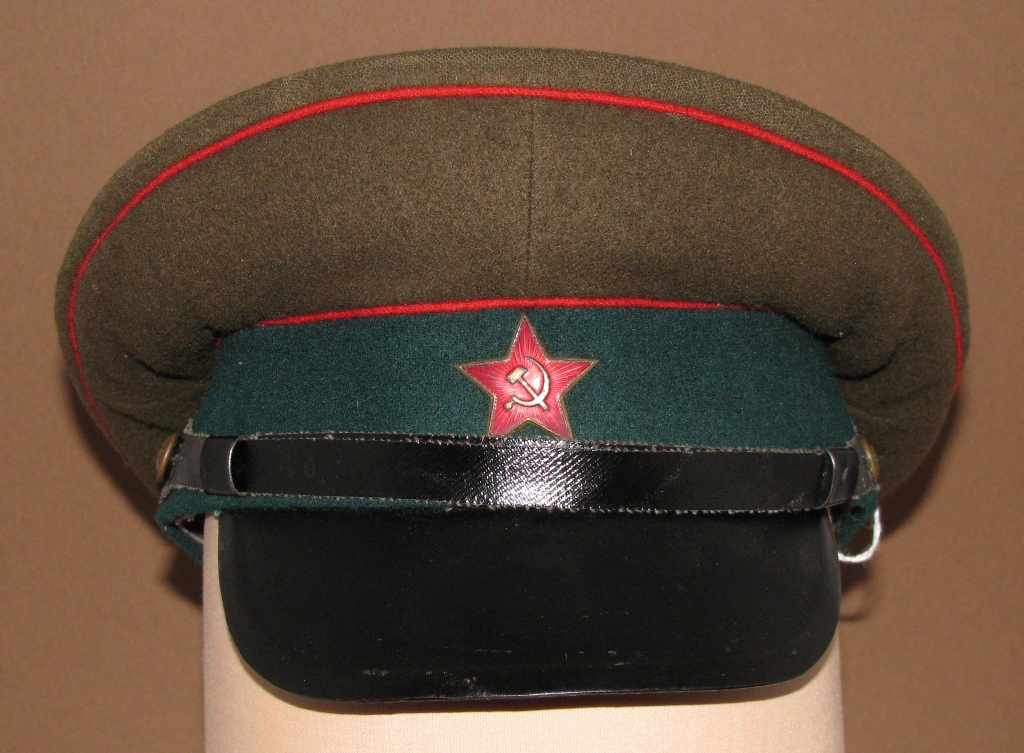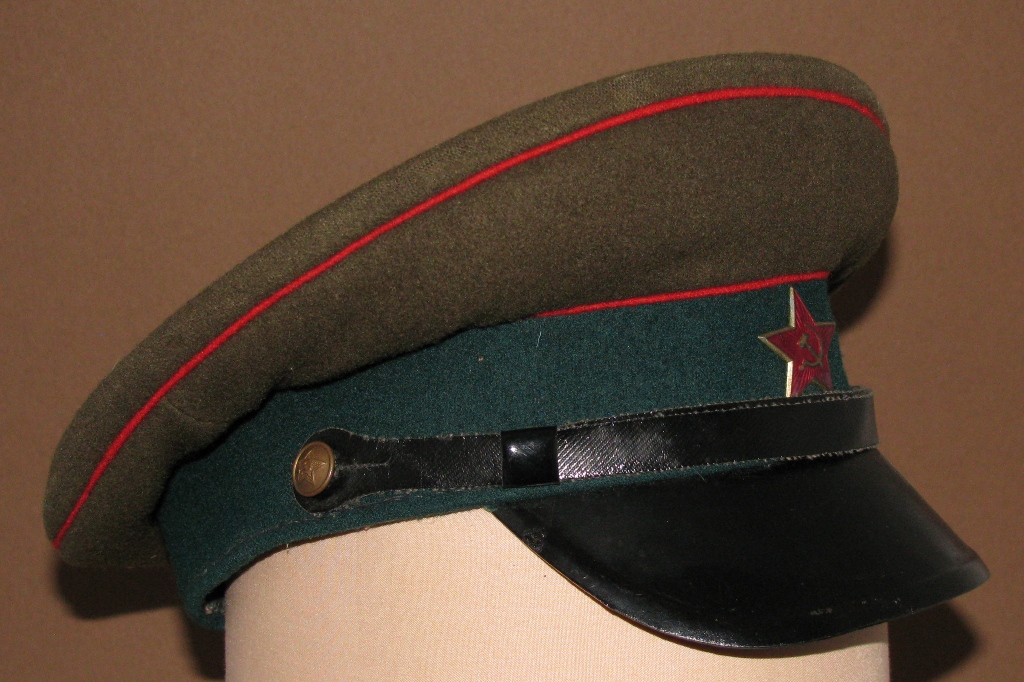 Medical/Veterinary/Administration
Officer Service/Parade
1935-1954
This is a higher-quality cap worn by an officer of the medical, veterinary or administrative services - all of which wore visor caps with green bands and red piping. Identification of this cap as an officer's is simple in this case, in that only officers of these services wore this color combination. Privates and sergeants wore visor caps in the colors of their assigned units: for example, medical personnel assigned to a rifle unit would wear caps with crimson band and piping. Even ignoring this regulation, the high-quality dark khaki wool crown, the angled visor and the sateen inner lining all help define this as an officer's cap. Scarce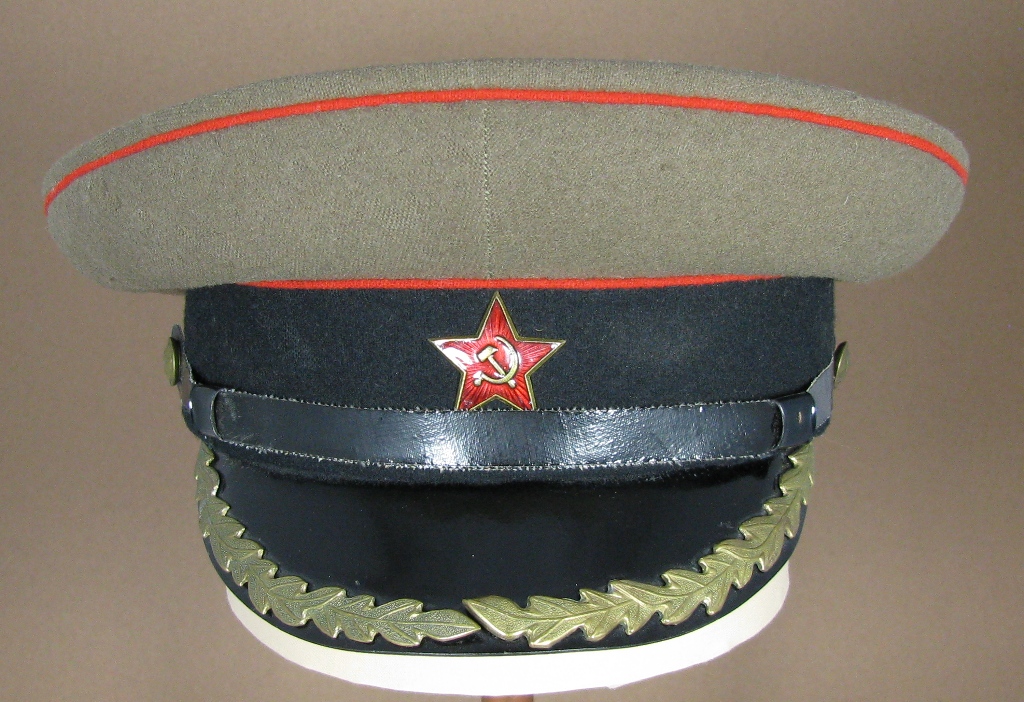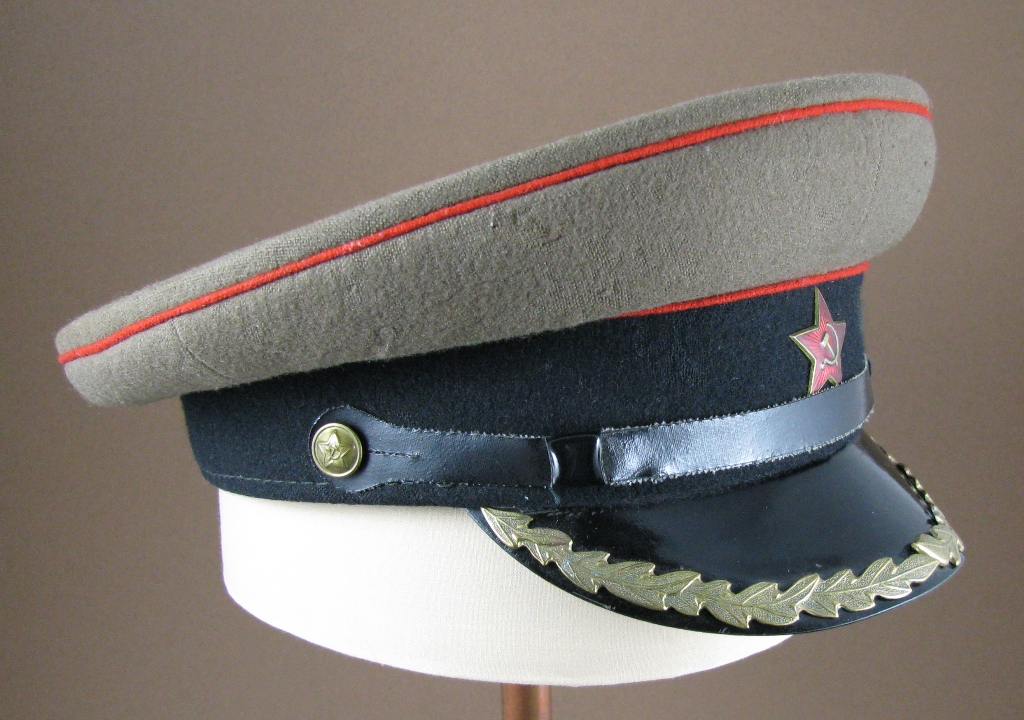 Artillery
Officer Parade-Walking Out
1954
Very short-lived, this cap represents a transition period in Soviet Army parade uniform development between the WWII era and the more elaborate uniforms of 1955-58. Simple in appearance, the cap is essentially a standard officer's visor cap with brass visor leaves signifying its new dress role. The history of this visor-leaf scheme, however, is more involved. While senior naval officers long utilized such leaves on both their service and dress caps, leaves were first authorized on Army officer dress caps in 1949 - when, to signify their elite status - officers of tank and mechanized forces (probably including automotive transport and self-propelled artillery) and the Air Force were authorized their wear. These first Army leaves were angled to fit spade-shaped visors standard at the time. In 1954 the honor of wearing such visor leaves was extended to all officers. The shape of these leaves were changed to accommodate the semi-circular visors also introduced that year. Consequently, the combination of elements shown here lasted only one year - 1954 - until replaced by new model 1955 gray dress uniforms and caps. The style of the visor leaves changed yet again in 1955, which you can compare on my page at: Army 1955-1957
The distinguishing feature of an artillery officer's cap is the use of black wool for the band (vice black velvet for tank and motor transport troops) along with red for piping. Artillery officers used this combination from 1935 until 1955 when they too were authorized to wear black velvet. The remaining elements are standard for the period: khaki wool crown, M47 red star, black oilcloth chinstrap, and brass Army buttons. Rare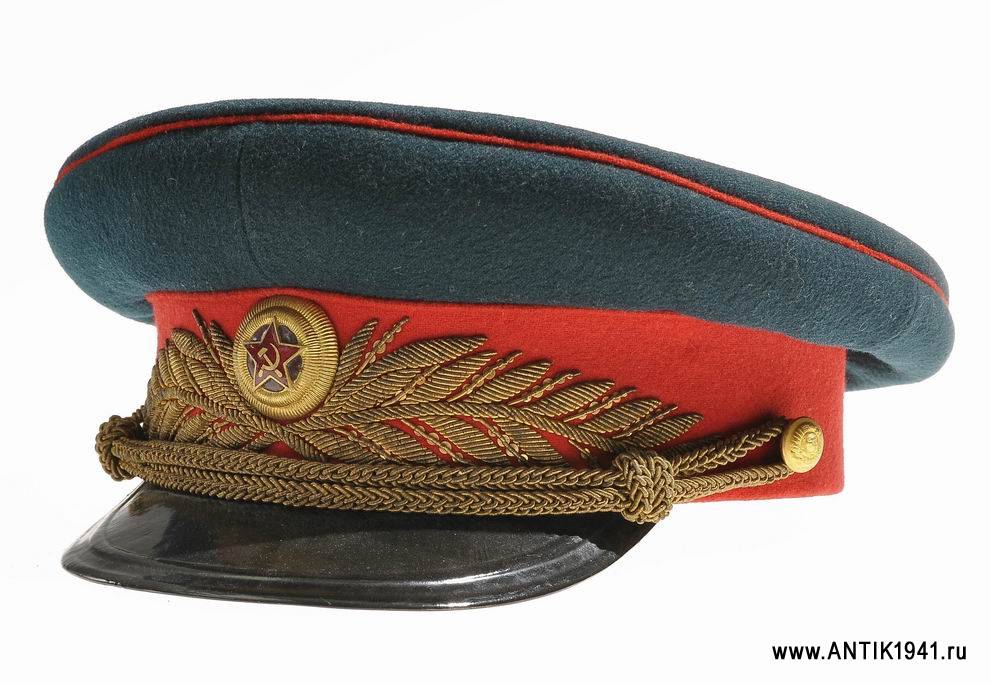 Rifles/Justice
General Parade
1945-1954
Shown here is a M-1945 general's parade cap from the Russian militaria site: www.antik1941.ru. The round crown of this cap is made of bluish-green napped wool of a shade referred to as "wave green" or "sea-foam green." More traditional collectors also refer to it as "Tsar green" because it roughly matches the shade worn by Imperial Army officers for their dress tunics prior to 1918. Bringing this color back for generals' dress uniforms in 1945 was a conscious decision by Stalin to reward his generals for their WWII exploits by restoring some of the pomp and circumstance of Imperial Russia.
This cap's affiliation with either Rifles' or Justice is signified by its red band and piping. A round brass and red enamel M40 general/marshal's cockade is pinned to the band and gold filigree cords are held in place above the rounded fiberboard visor by brass buttons embossed with the Great Seal of the USSR. Gilt wire embroidery in the shape of stylized laurel leaves is sewn onto the band (another feature of generals' caps authorized in 1945). The exact configuration of this cap remained unchanged until a new general's cockade was introduced in 1955. Rare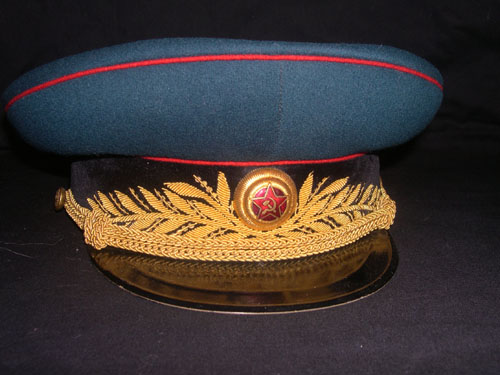 Tank/Artillery
General Parade
1945-1954
This cap from www.warrelics.eu is a direct counterpart to the one just discussed, with the black velvet band and red piping identifying it as belonging to either a Tank or Artillery general. The gilt embroidery, the M40 cockade and the rest of the cap are identical to the previous cap. Rare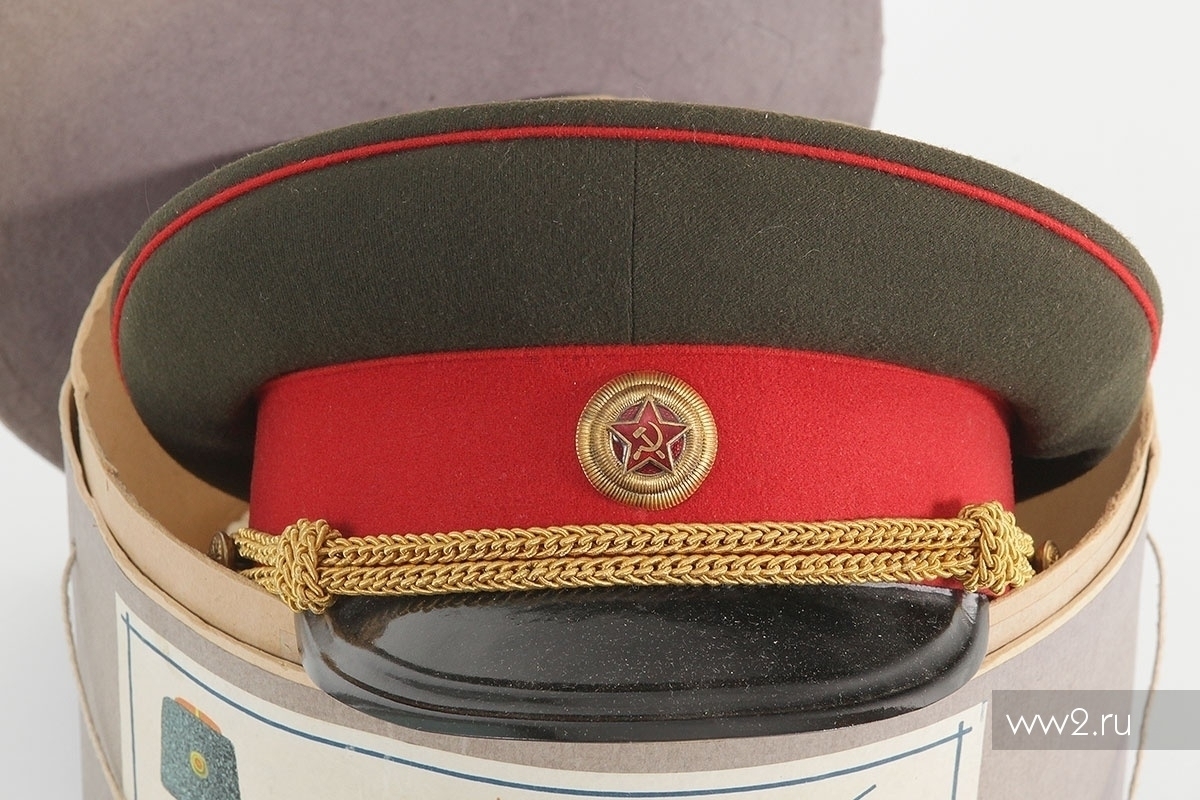 Rifles/Justice
General Service
1940-1954
The first general-unique cap established for the Red Army; this style cap remained essentially unchanged through 1954. This is a Rifle Troops/Justice Service general's service cap from the ww2.ru site - with a khaki crown and red band and piping. A round M40 cockade and gilt filigree cords are attached to the band. The visor is black painted fiberboard of a rounded shape; which was used concurrently with spade-shaped visors by Army generals during this period.
Similar khaki service caps but with magenta bands and piping were authorized for Special Troops and Intendance generals; with black velvet bands and red piping for Tank and Artillery generals; and green bands with red piping for medical and veterinary generals. Scarce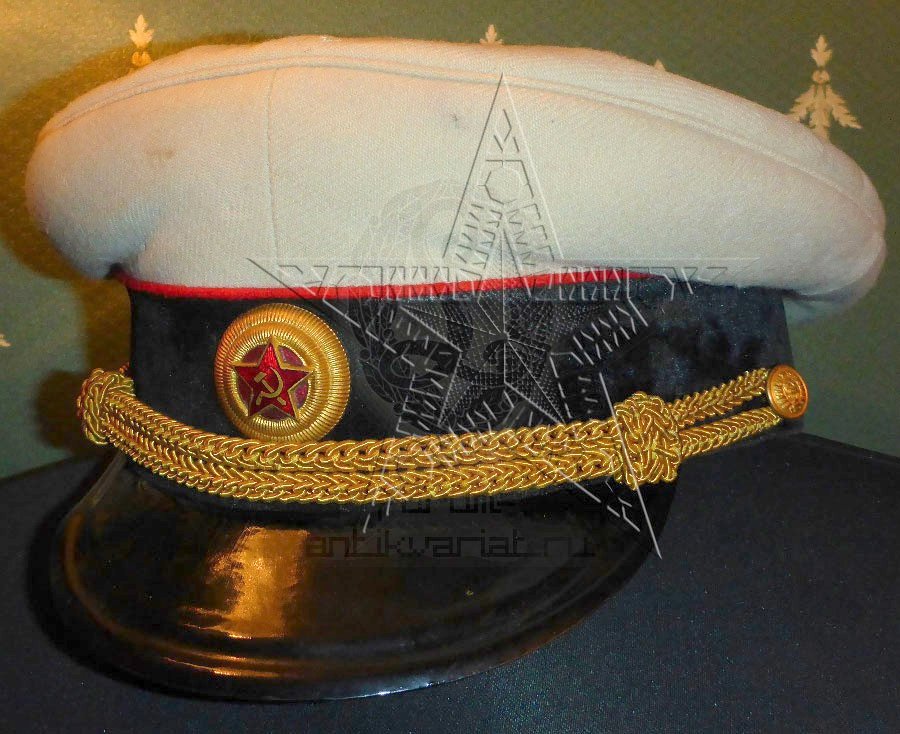 Tank/Artillery
General Summer Service
1943-1954
This general's white summer service cap was authorized for Tank and Artillery generals, as the black velvet band signifies. While regulations called for a white cover pulled over the khaki service cap (like the Navy had long used), the crown of this particular cap from the antiqrussia.ru site is permanent. The M40 cockade, gilt cords and black fiberboard visor are as for the khaki-topped service cap. White topped caps would remain in use until 1958; although they would change cockades in 1955.
Of course, any general, regardless of his arm or service, could wear a white cover over his service cap during this period. Rare