Caps of the Soviet Army
Introduction
Due to the large number of caps in this category, I have subdivided the Army cap section into the four uniform periods described on my Uniform Periods page to the left. All caps on this page were worn during this period. However, certain uniform elements (including caps) often extended into succeeding uniform regulations. In most cases, I have placed these caps according to which uniform period they were introduced. A thumbnail image accompanies each cap description. Clicking on that thumbnail will bring up a larger, higher resolution image.
1969-1991: M69 "Modernized" uniforms and their final updates
Ministry of Defense uniform regulations developed in 1969 represented the most significant and far-reaching reform of Soviet Army and Navy uniforms since 1943. Virtually every type of officer and soldier uniform was affected, with an overall trend toward more modern and lighter fabrics, western design and added color and ornamentation. While generals' uniforms changed the least in these changes, it is safe to say that every service member began 1970 (the effective date of the M69 regulations) looking sharper - at least on paper - than his counterparts in 1968.
Visor caps in turn changed in shape, size, color and accessories - with aluminum vanquishing the last remnants of brass and enamel insignia and the overall shape taking on a decidedly "Germanic" appearance. This shape change came from increasing the height of the crown at the front of the cap and by increasing the circumference of the top. This in turn formed a curved or "saddle" shape when seen in profile - a shape famously associated with German caps of WWII.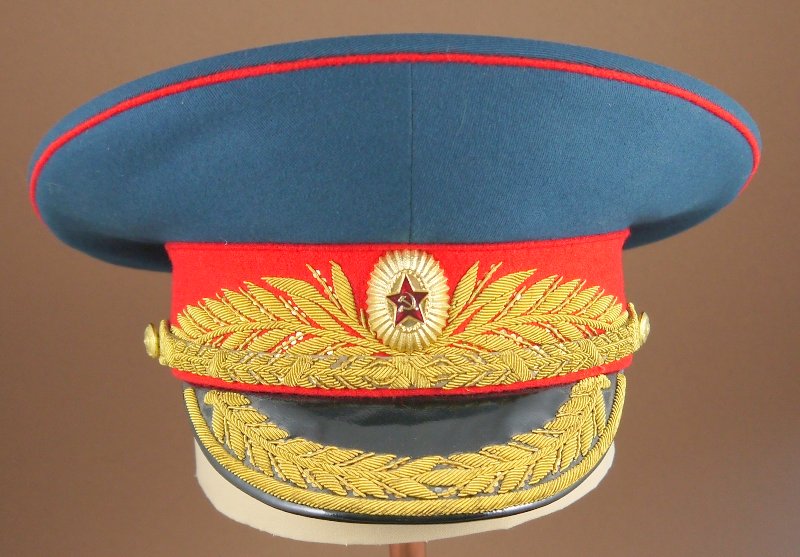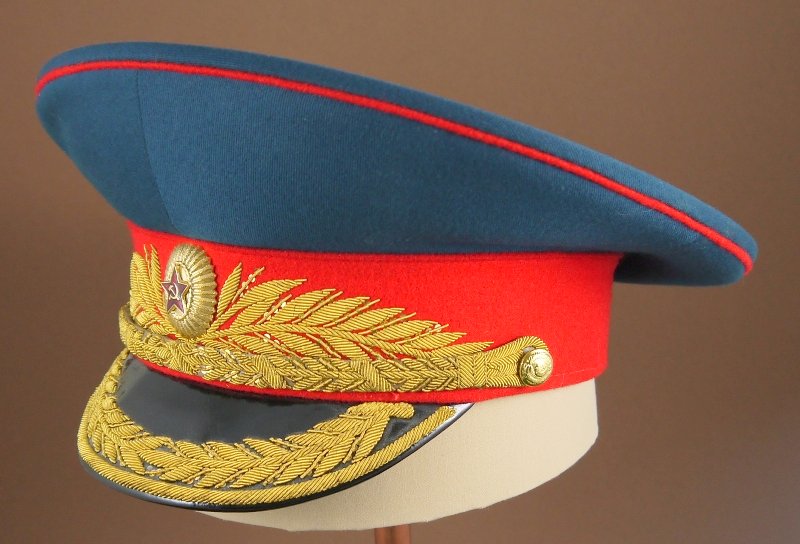 Motorized Rifle
General Parade
1969-1991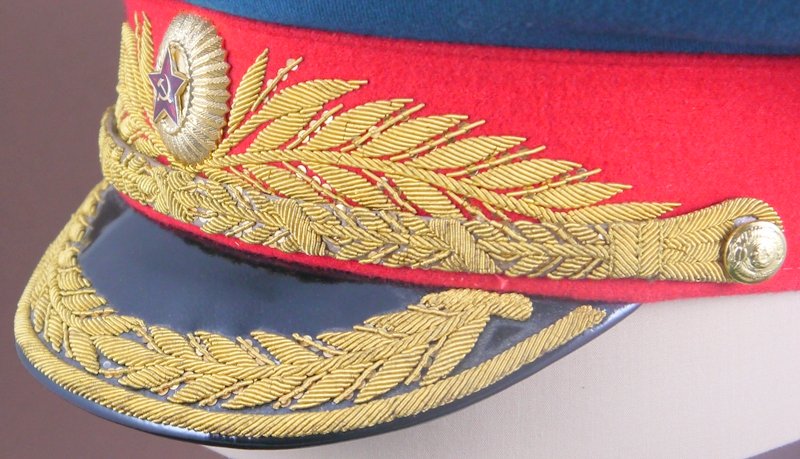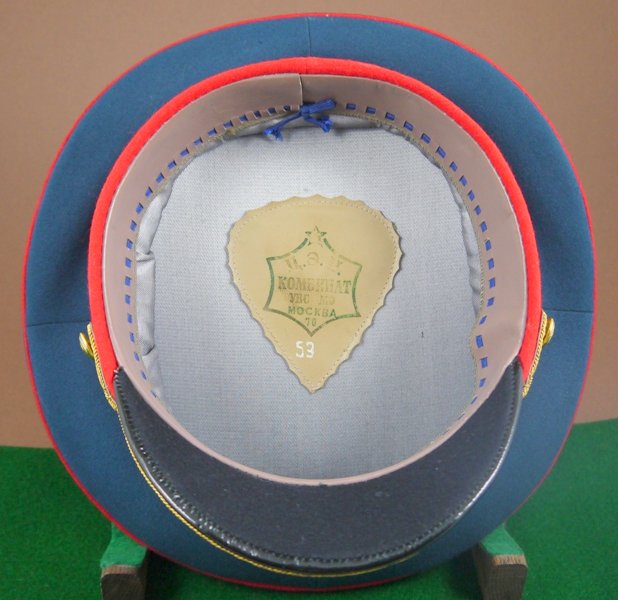 Probably the archetypical Soviet general's cap - the one most commonly seen in images taken of Soviet military parades, funerals and other ceremonies. In compliance with 1969 regulations, the top circumference was increased (final size varied depending on head size) and the height of the crown front was raised by .5 cm. Other than those changes - this 1970-dated cap largely mirrors its 1955-68 predecessor. Crown fabric is wave green in color, band and piping is red. The band, visor and leather strap are heavily embroidered in gilt wire. The cockade is the two-piece gilt aluminum general's model. The general's pattern buttons are now gilded plastic - which became standard on all caps during this period. The patent leather visor is covered underneath with black wool and the interior is finished to general standards.
I've added a closeup of the embroidery and of the inside of the cap to provide a more complete impression. Although I don't have ones to show, variants of this cap also existed with black velvet banding for Tank and Artillery generals and raspberry (crimson) for generals of Special Troops, Medical, Veterinary, Justice and Intendance. The same gilt embroidery was used on all these parade caps since 1969 regulations abolished silver embroidery previously used by Medical, Veterinary and Justice generals. Scarce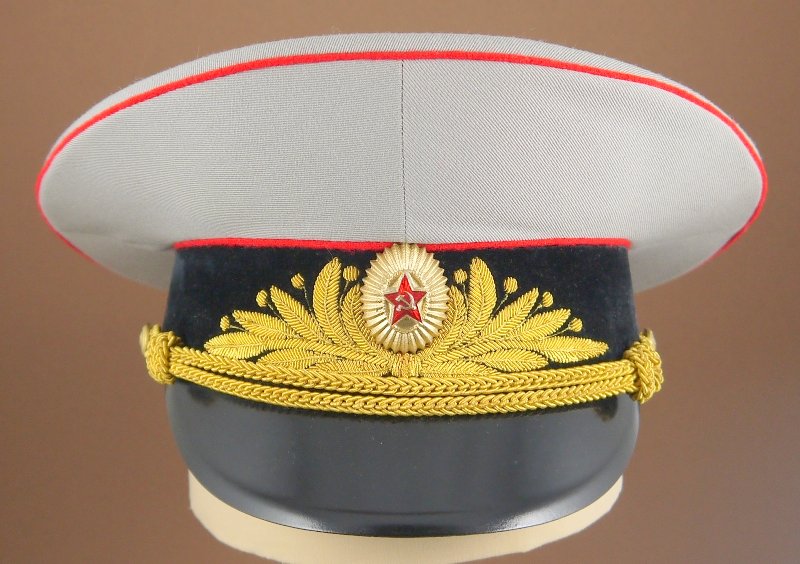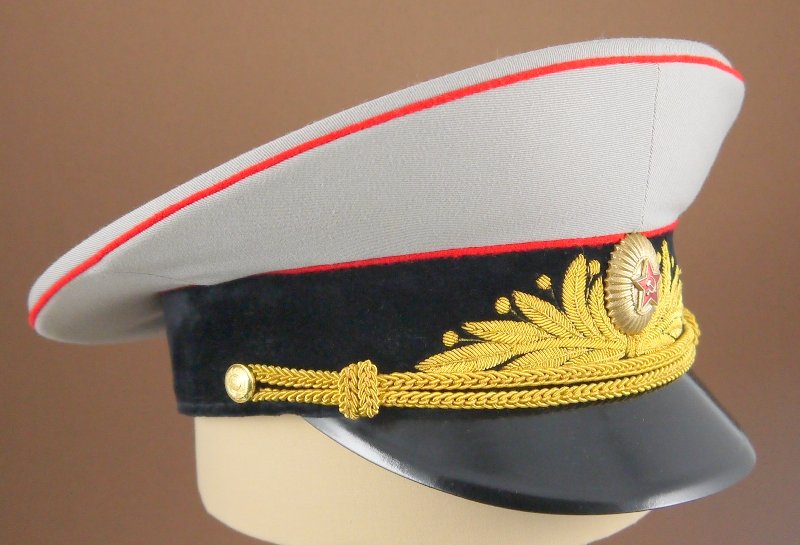 Armour/Artillery
General Parade-Walking Out
1969-1980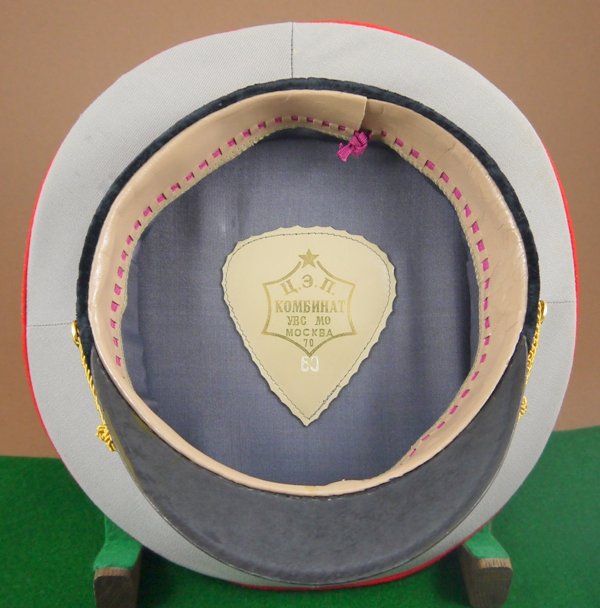 The light gray jacket and cap had been authorized for summer wear by generals since 1955 but until 1969 served as an alternative everyday service uniform in the summer. In 1969 regulations it was upgraded to a parade-walking out uniform intended for wear at formal (but not parade) military and civilian functions. Reflecting its more-exalted status, a wreath with 14 leaves was now embroidered onto the band, surrounding a gilt M55 general's cockade. Shown here is a cap belonging to either a Tank or Artillery general as identified by the black velvet band and red piping. The light gray crown is made from fine gabardine fabric. Note that the cords continue to be gold filigree and the visor is black lacquered fiberboard - NOT leather.
The interiors of these gray caps are typically the same as that seen on wave-green parade and khaki service general caps. However, most M69 generals' caps were now marked with the year of manufacture (1970 again in this case) - unlike those made in the 1950's and early 1960's. Stamped year of manufacture continued to be standard on generals' caps until the late 1980's when they were once more usually omitted.
The light gray parade-walking out cap was officially phased out in 1980 in favor of the wave-green cap. Scarce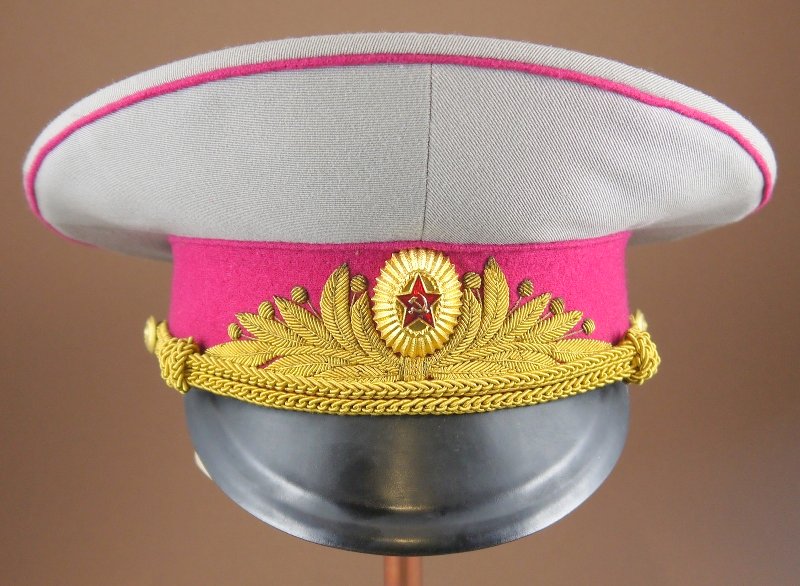 Special Troops/Medical/Veterinary/Justice/Intendance
General Parade-Walking Out
1969-1980
This cap is similar to the one above, with the obvious exception of raspberry (magenta) colored band and piping marking its association with the Special Troops or one of the medical or administrative services listed. Band embroidery is somewhat tarnished gilt wire of the correct 14-leaves style. The aluminum cockade and plastic buttons mark this as a cap from the 70's or later - 1972 in this case. Gold cords and black fiberboard visor are also standard for this period for this type of cap. As previously mentioned, wear of this style gray cap officially ended in 1980 when it was phased out of service - and when, incidentally, magenta was also dropped as a band color. Scarce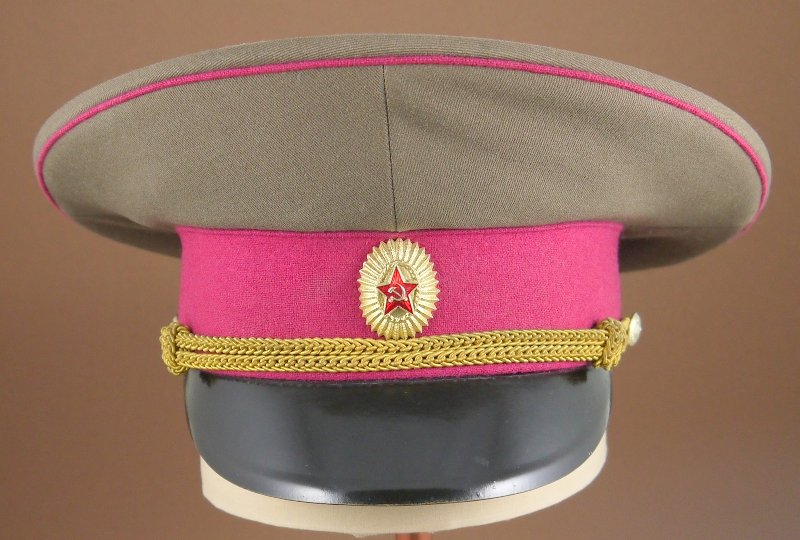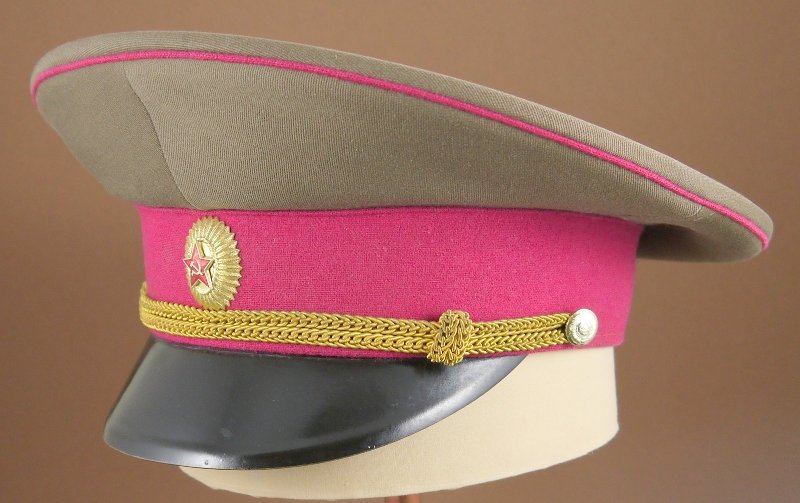 Special Troops/Medical/Veterinary/Justice/Intendance
General Service
1969-1980
This 1973-dated service cap is representative of one produced prior to 1980. While its raspberry band and piping colors are somewhat striking, the rest of the cap is remarkably bland for a general officer's, reflecting its everyday role. It is unadorned beyond a M55 gilt general's cockade and golden filigree cords. It remains very similar to its predecessors, differing only in the greater height and circumference of the crown on the model 1969. In 1980 the Soviet Army did away with the raspberry band and piping colors shown here, transitioning all officers and generals still using that color to red. Scarce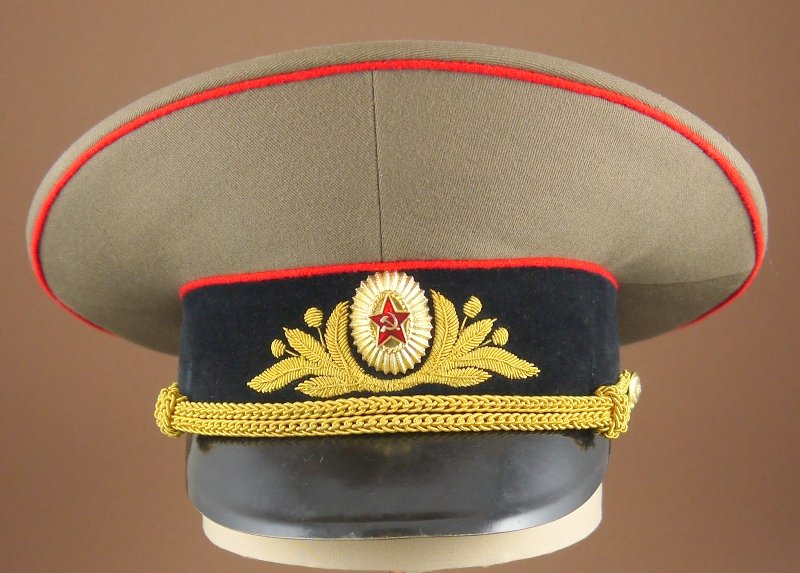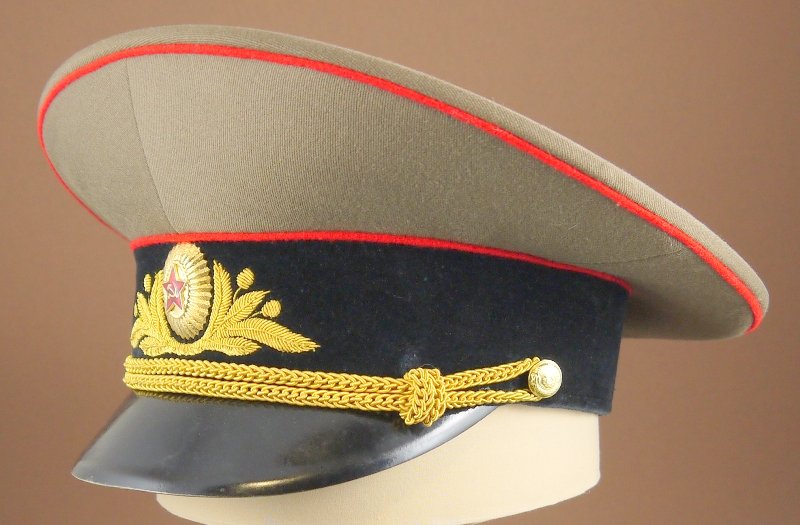 Armour/Artillery
General Service
1980-1991
While at first glance they may appear to be completely different, this and the previous cap serve the same role - "everyday" duty cap for Army generals. However, this 1981-dated service cap now proudly carries the unique band embroidery authorized on such caps as of 1980 - following the abolition of the gray walking out cap which had similar band embroidery. Nevertheless, the wire embroidery on the service cap differs in that the wreath surrounding the cockade only has 8 leaves - vice the 14 seen on the earlier gray cap. The rest of the cap is standard M69 - black velvet and red identifying the arm of the wearer, M55 all-gilt cockade, gilt plastic general-officer buttons, gold filigree cords and black fiberboard visor. Scarce
It is interesting to note that the Ministry of Defense apparently took into account the cost of generals having to purchase new caps to meet the 1980 standards and initially authorized the production of a two-piece pin-on aluminum cockade/emblem that could be used to upgrade pre-1980 service caps. However, since these separate metal wreaths are very rarely seen, it is obvious that the vast majority of generals were willing to pay for new caps incorporating the gilt wire embroidery. The front and back of one of these metal cockade/emblems are shown here.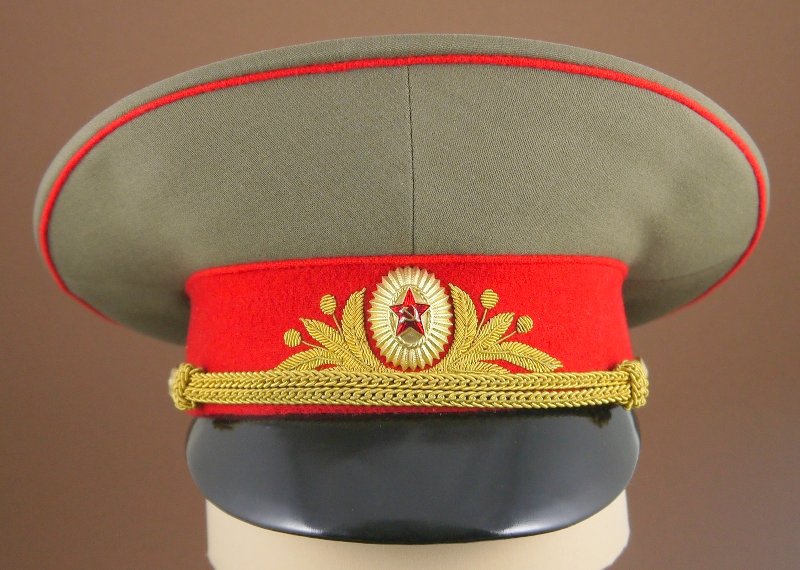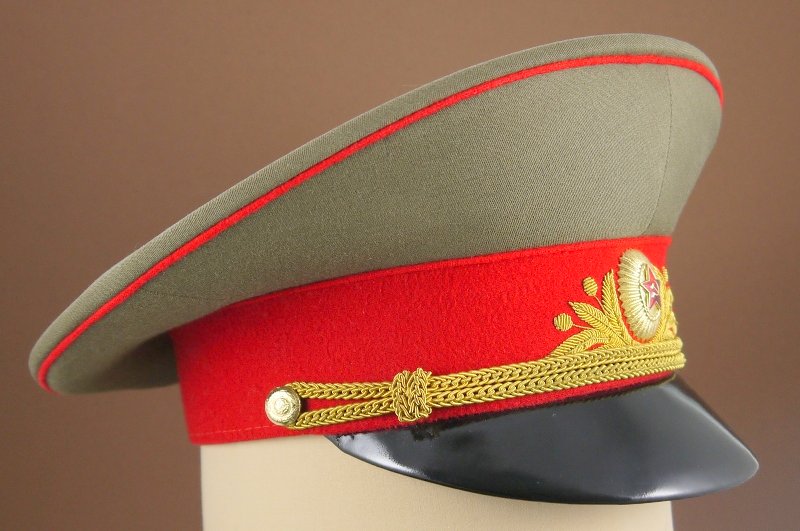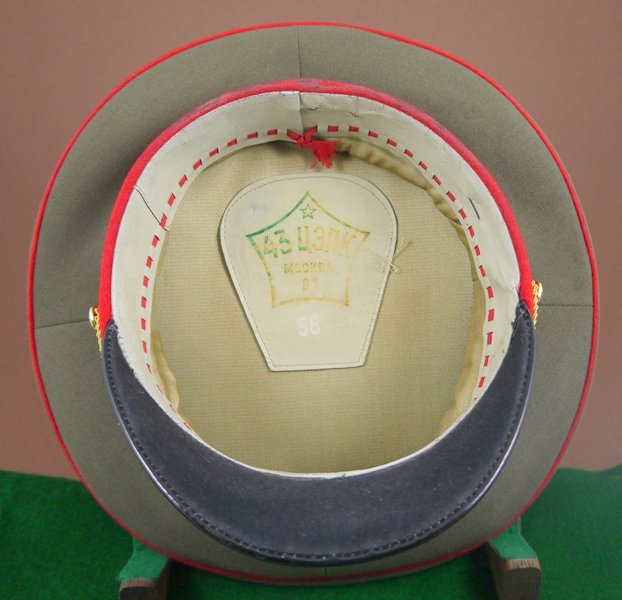 Motorized Rifle/Special Troops/Medical/Veterinary/Justice/Intendance
General Service
1980-1991
With the changes announced in 1980, this color combination (red band and piping) became standard for all Army generals except Armour and Artillery. In the 1989 uniform regulations - this quest to simplify arm/service colors reached its zenith - when ALL generals (including Airborne but not Air Force) were assigned red as band and piping colors. These final changes were not widely realized, however, before the USSR collapsed in 1991.
As you can see, this cap has the embroidered wreath with 8 leaves authorized in 1980 - along with the other by now standard generals' cap accessories. However, this one differs from the previous M80 cap (even though they were both made in 1981) in that the visor is now patent leather with black wool underneath. This patent leather visor rapidly gained popularity and eventually superseded the older fiberboard visor on generals' caps. Based on my surveys, both fiber and patent leather visors were used from 1981-1983, with patent leather becoming most common in the latter half of the 1980s. Of note: following the collapse of the USSR, headgear manufacturers began using these visors on officer-grade and even enlisted caps for those personnel willing to spend a little extra to have the "sharpest" looking cap possible.
I've also shown the inside of this cap so that you can see the second major style of makers' labels used in general-officer caps - the one I've dubbed "horseshoe" - as opposed to the "teardrop" shaped labels I've shown earlier. Either shape is completely authentic and usage varied from batch to batch, even in the same factory in the same year. Available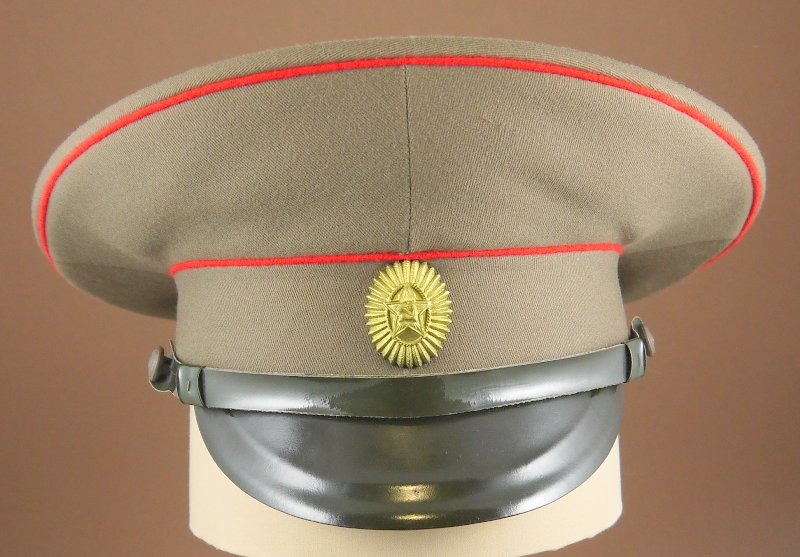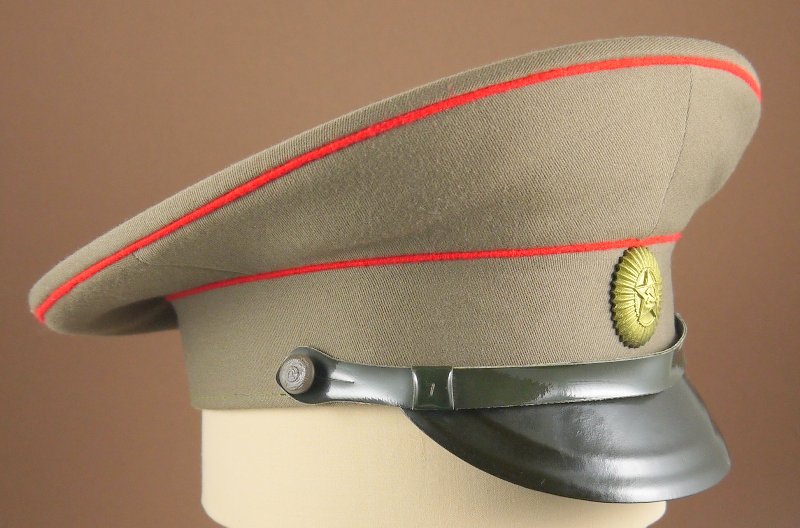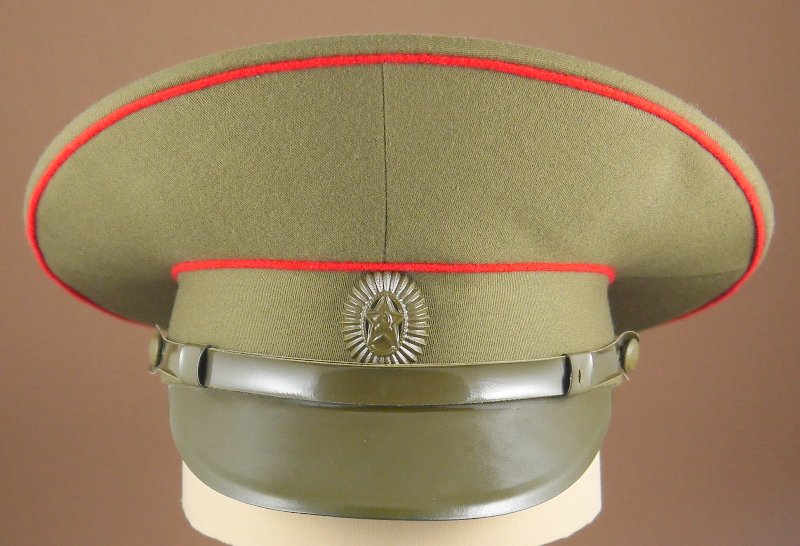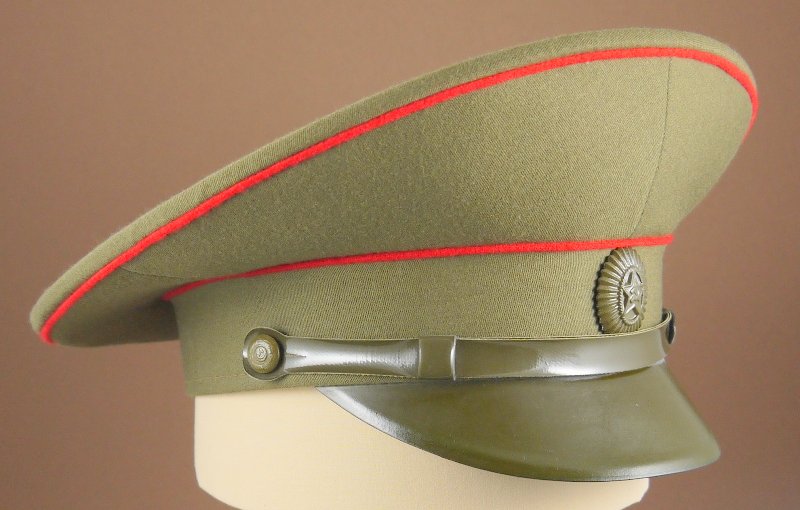 Army - All Arms and Services
General Field
1969-1988
These pictures illustrate the changes made to the generals' field cap in the 1969 regulations. Although field caps were authorized in 1958 - earlier versions did not have colored piping and had shorter crowns with smaller circumference. Red was selected as the piping color shared by all ground forces' officers - the only other color authorized being azure for Air Force and Airborne generals. The two sets of pictures shown here illustrate the most common variations seen on these caps (dated 1970 on the left and dated 1982 on the right). Both are overall khaki - band and crown. However, the older cap on the left has a black painted double-rimmed fiberboard visor while the other has a green painted single-rimmed one. Use of black instead of green visors are commonly seen, even though regulations clearly prescribe khaki (green). Both chinstraps are plastic - the older a dark green, the other a lighter shade. Buttons are also different, although both are marked with the generals' Great Seal of the USSR. The older cap has dyed plastic buttons while the newer one has green-painted steel ones. And finally, the cocades differ in that the older one is made of greenish aluminum while the newer one appears to be aluminum thickly painted green. The insides are similar - both use a khaki colored silk lining although the sweatband and ribbon colors vary. These caps were authorized for field wear until the 1989 regulations; thereafter generals were to wear the new "six-pocket" field uniform with its matching field cap. Available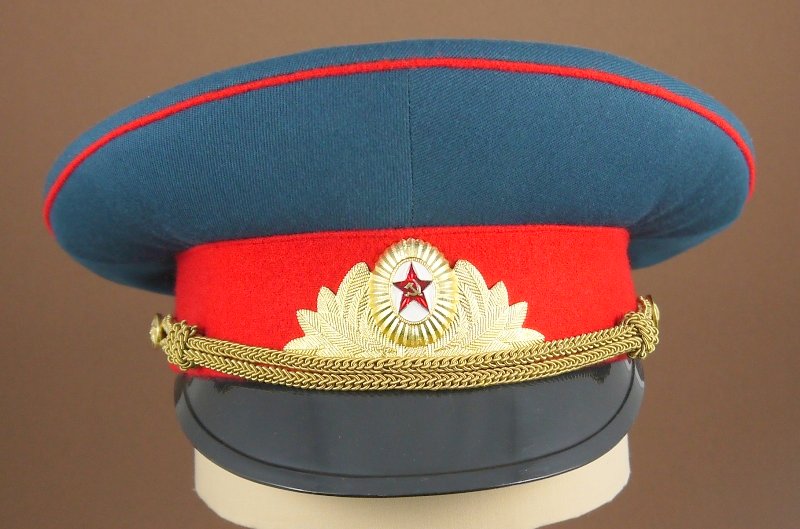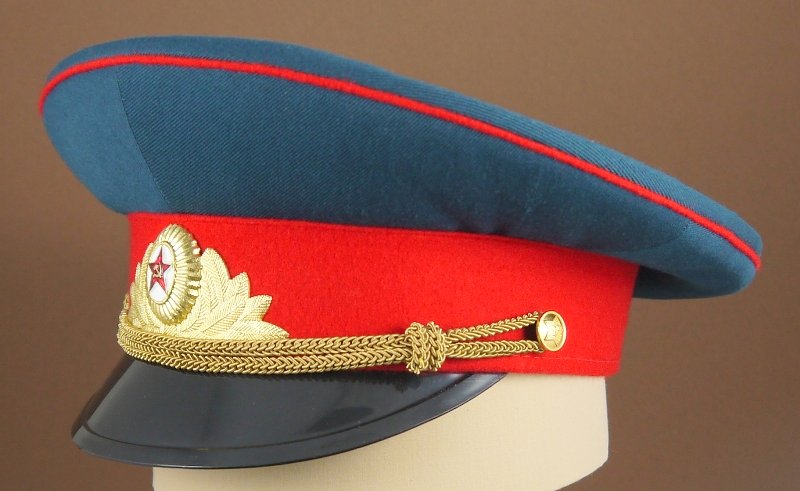 Motorized Rifle
Officer Parade-Walking Out
1969-1991
This and the next two caps capture all three color combinations authorized under the 1969 regulations for officers of the Soviet Army as part of the new wave-green parade walking-out uniform. Since regular officers did not have a separate walking out uniform (like the general's gray one), the same cap was worn for both purposes. Along with the new color, a new cap emblem was introduced for this uniform - a one-piece combined cockade and wreath (a two-piece form of this emblem may have also been produced in small numbers). This emblem was made in gilt aluminum with a white painted oval surround to the red star. This particular cap is a later one (dated 1988) so it has an enlarged black plastic visor which starting entering use in 1977/78 and became standard in the 1980s. Earlier caps were produced with the common black painted fiberboard visors. The red band and piping identify the wearer as either an officer, warrant officer (after 1972) or extended service sergeant belonging to Motorized Rifle troops. Gold filigree cords are held in place by one-piece gilt plastic buttons embossed with the Army star. The interior has a colored satin lining with a diamond-shaped maker's label. Common

Soldiers who extended their service in the Army beyond the two years of mandatory conscription were accorded a number of added benefits, one of which was the privilege of wearing modified officer uniforms. An male "extended service" sergeant (they were all either NCOs up to 1972 or largely Warrant Officers after 1972) wore the exact same caps as his officer counterparts - including the wave green parade walking out. However, extended servicemen always wore black chinstraps on their khaki service caps even after officers were authorized to wear gold cords.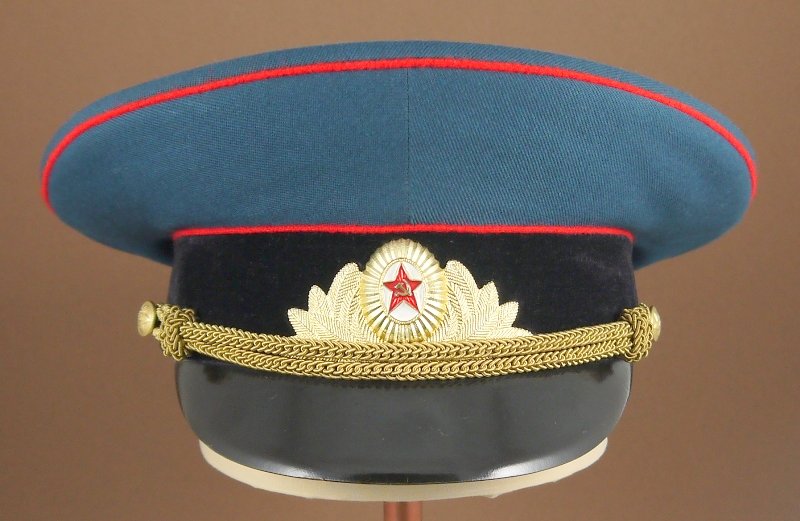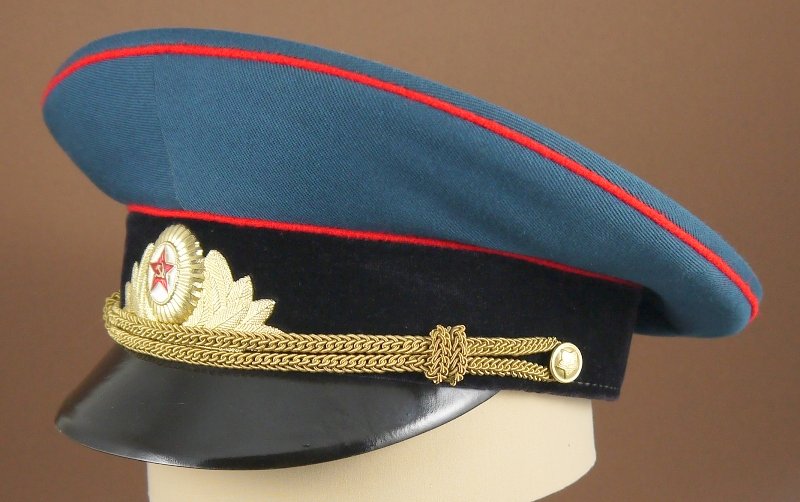 Armor/Artillery/Special Troops
Officer Parade-Walking Out
1969-1991
The black velvet band separates this cap from the previous one - signifying the owner as an officer, warrant officer or extended service sergeant of either tank, artillery or special troops. Note that although generals of Special Troops wore raspberry banded caps during this period, officers and soldiers wore black bands as here. Although 99% of bands observed on these officer parade caps are made of velvet, according to regulations some components of the Special Troops were only authorized black wool. Due apparently to widespread disregard for this rule, the Ministry of Defense officially authorized in 1980 all black bands to be made of velvet. The only other differences between this cap and the previous one is that this one has two-piece metal buttons and a black painted fiberboard visor - vice a plastic one. Although the date is worn off, this indicates this cap was made before 1980. Common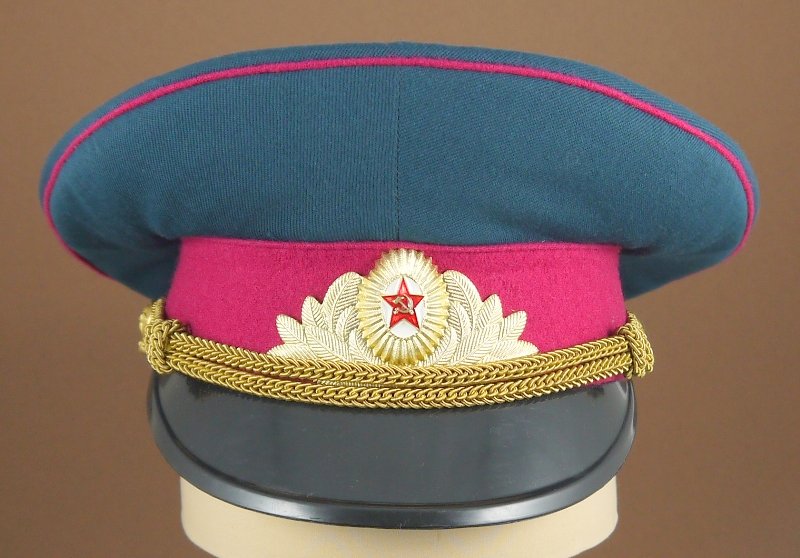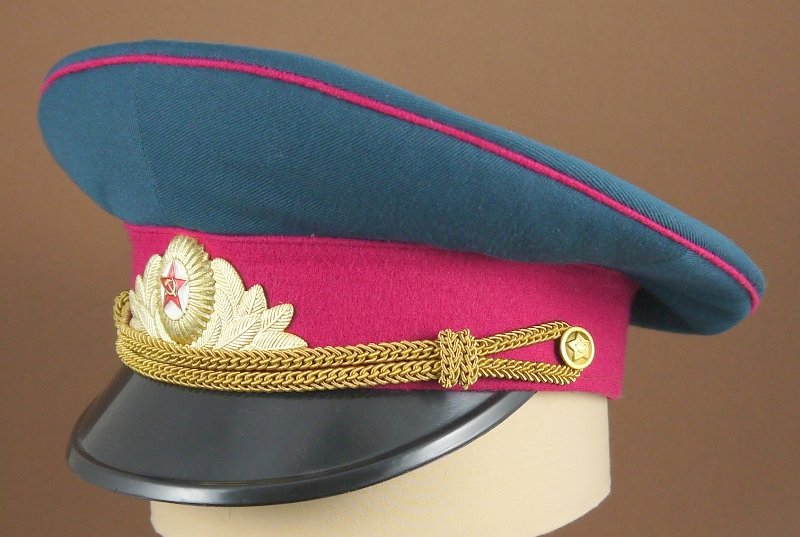 Medical/Veterinary/Justice/Intendance
Officer Parade-Walking Out
1969-1980
The final cap of this series, this cap was worn by the "rest" of the officers making up the Soviet Army ground forces. Notice the date range I provide for this cap - it only extends to 1980. That is because in that year the Ministry of Defense further consolidated branch colors and revoked raspberry/magenta in favor of red. This cap was made in 1977 - probably the first year plastic visors were used in some production (although fiber remained standard until 1980/1981). The rest of the cap is as previously discussed. Available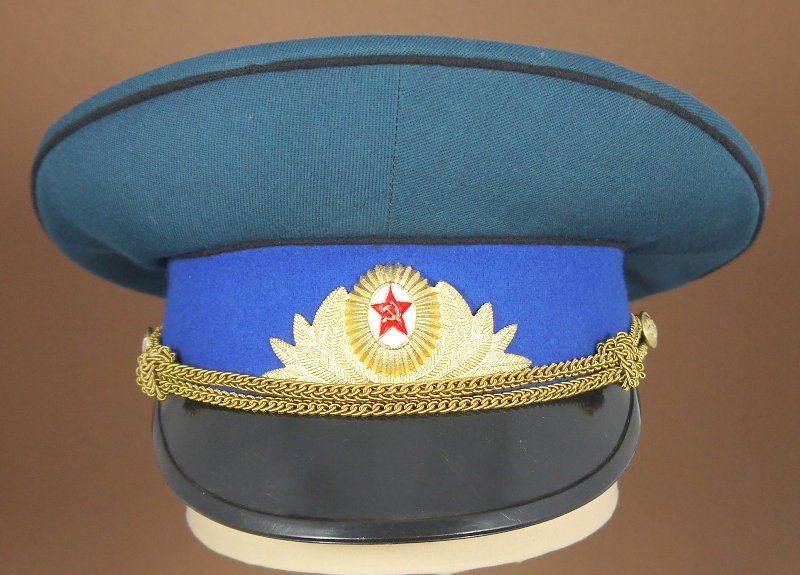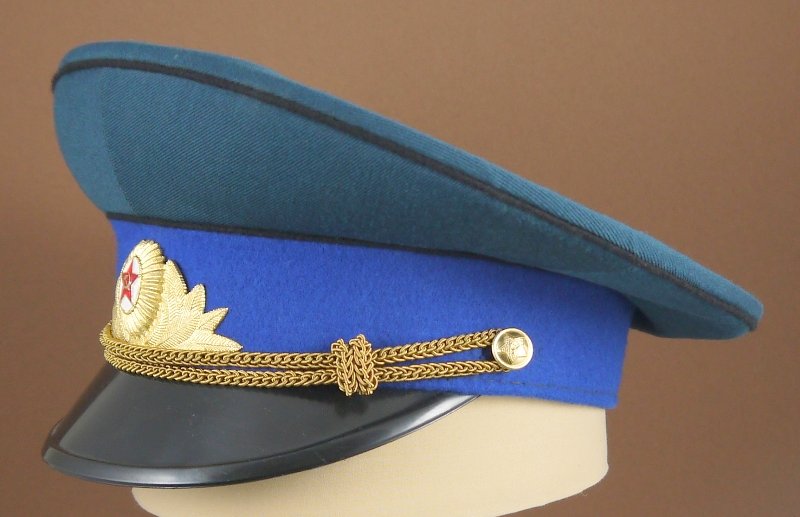 Cavalry
Officer Parade-Walking Out
1969-1991
Although not addressed in the 1969 regulations, there was one last small group of officers that wore an extremely rare variant of the wave-green parade uniform. Even though cavalry units had been phased out of operational forces (except for the MVD and Border Guard) in the late 1940's, in 1962 an independent cavalry "division" was formed near Moscow to support movie filming. Later this unit was redesigned a regiment (although actual personnel strength was closer to a battalion) and, while still participating in movies, also performed ceremonial parade duties. Traditional pre-war cavalry colors were retained on caps of this formation - a bright blue band with black piping. All other aspects of the cap mirrored its more common Army counterparts. Very Rare

| | |
| --- | --- |
| | After 1972, cavalry officers and soldiers were also authorized to wear the honor guard "sunburst" on their parade caps when serving on ceremonial duty. Shown here is an extract from the Russian uniform magazine Zeughaus. Videos and still images from the 1980s confirm these emblems were worn. These same videos also show musicians wearing cavalry uniforms with the musician's lyre emblem on the crown of their caps. |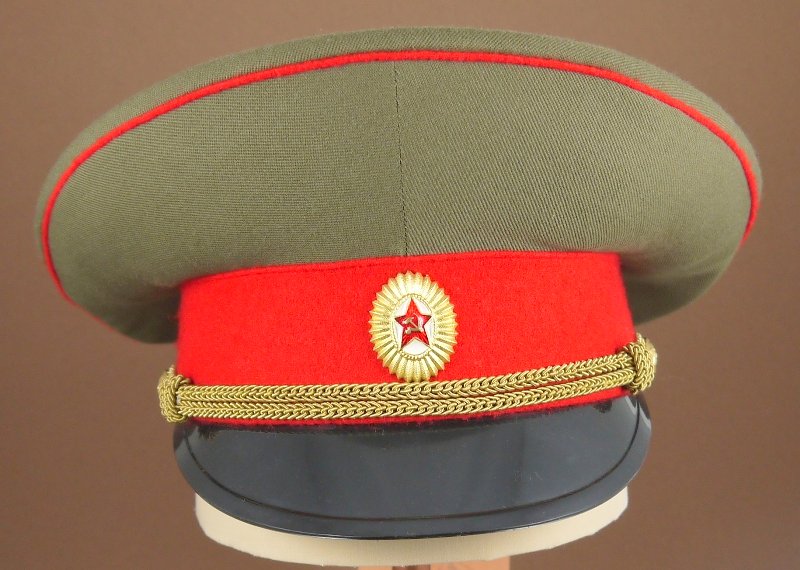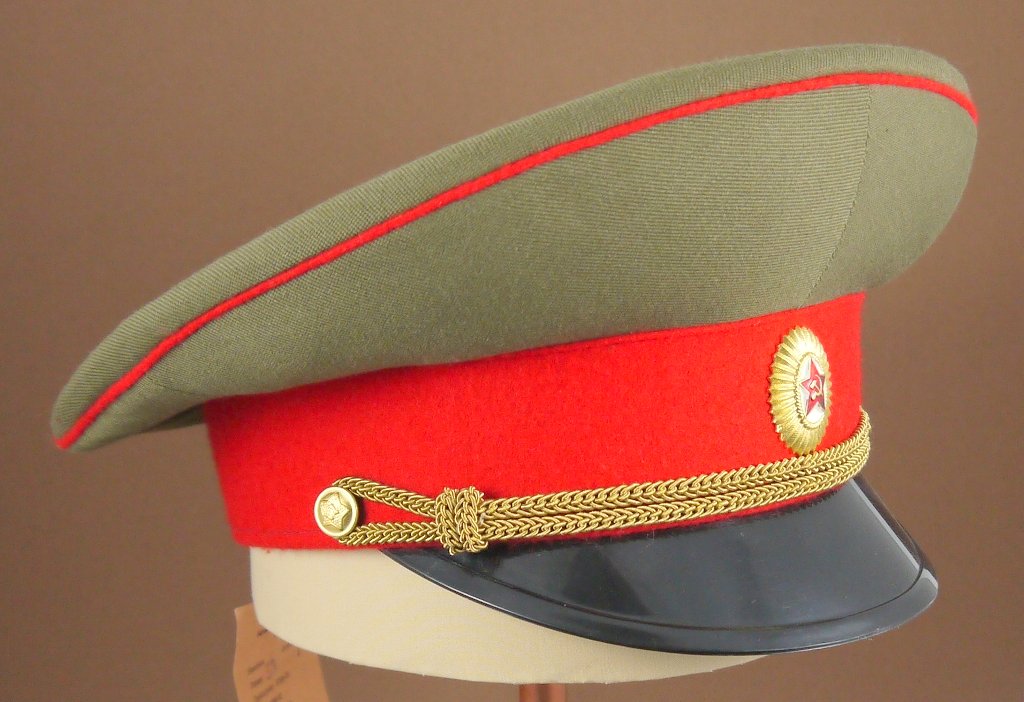 Motorized Rifle
Officer Service
1975-1991
This is the cap worn by Motorized Rifle officers with the everyday service uniform during this period (and Medical/Veterinary/Justice/Intendance officers from 1980-1991). It follows the M69 pattern, with a khaki crown and bright red band and piping. It uses the same cockade found on service caps since 1955 - although these were all aluminum by this stage. The gold cords shown here were only authorized on officer service caps from 1975. Prior to that time, a black chinstrap as worn by soldiers was worn. Gold cords and gilt metal buttons finish the accessories. The visor is plastic. Although plastic did not completely replace fiber visors on Army caps until around 1986, they became increasing common after 1980. Patent leather visors (identical to that used on Generals' service caps) were also increasingly found on officers' service caps after 1987. Common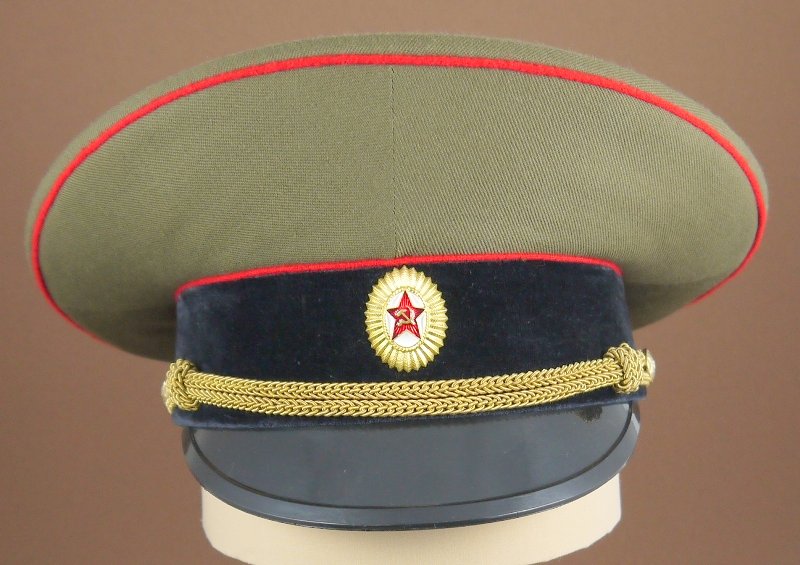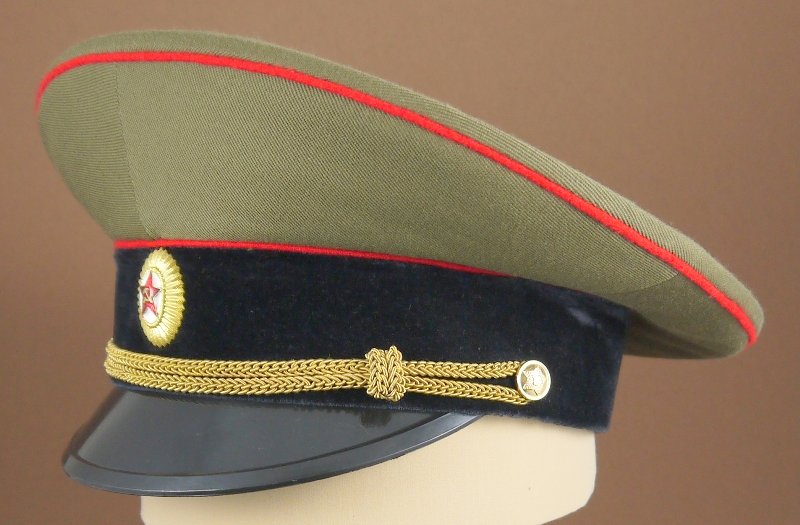 Armor/Artillery/Special Troops
Officer Service
1975-1991
Except of the band - black velvet - this cap is virtually identical to the cap just described. Produced in 1989 - it has the same plastic visor, aluminum cockade and gold cords. The only divergence are the buttons - which are plastic. At this stage virtually all cap buttons were plastic. Although I do not have one to display, a magenta-banded and piped version of this cap also existed for medical, veterinary, justice and intendance officers up to 1980. Thereafter they wore the same cap as Motorized Rifle officers. Common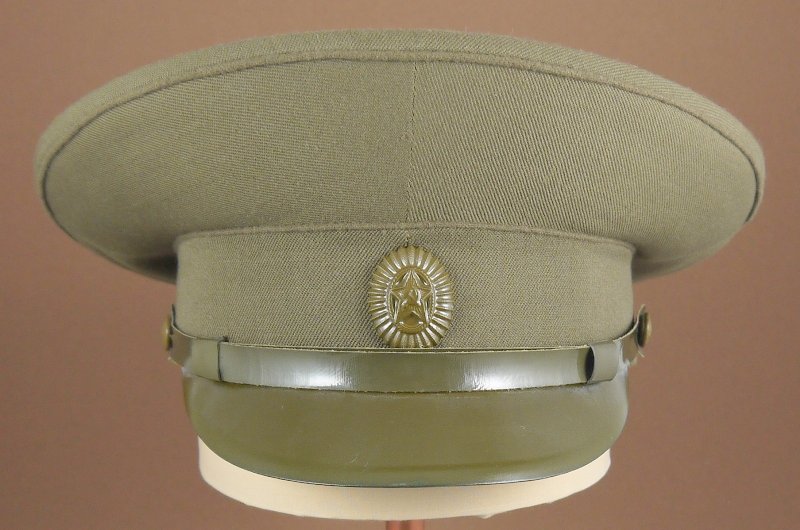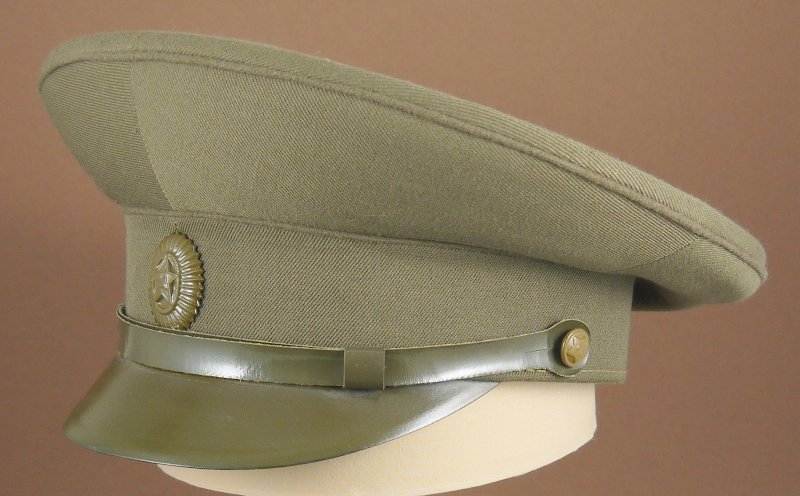 All Arms and Services
Officer Field
1969-1988
Like the general's field cap above, the M69 officer's field cap was in service until 1988 - at which time it was officially replaced within the Army with the red-piped pilotka (or "envelop" cap). The officer's field cap was all khaki - just like the M58 version. The cap displayed here at the sides was made in 1982. It has a green oilcloth chinstrap and green painted buttons, cockade, and fiberboard visor. However, the material used for these "accessories" varied quite a bit over time. For example, I've shown below to the bottom left a variation with a different style painted fiber visor - notice the two rims along the outside edge. This style of visor was reportedly only in use between 1975 and 1980 (this cap is dated 1976). The rest of the cap matches the first field cap. The picture below and to the right is one of the last field caps produced (dated 1987) and although it is missing its chinstrap, you can clearly see it has a larger plastic visor. Green plastic buttons and cockades were also found on these later field caps. Common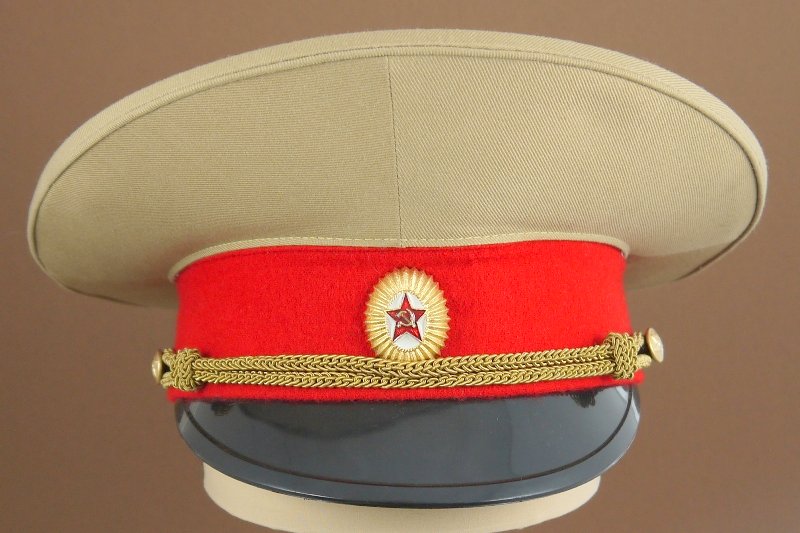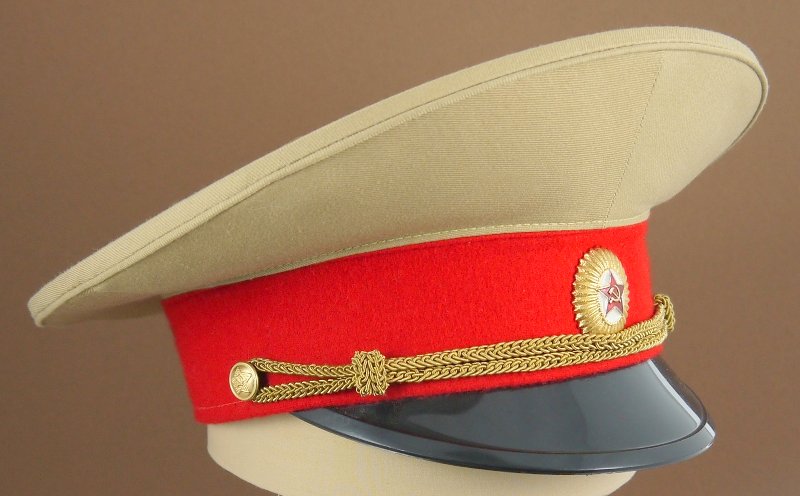 Motorized Rifle
Officer Tan Service
1985-1991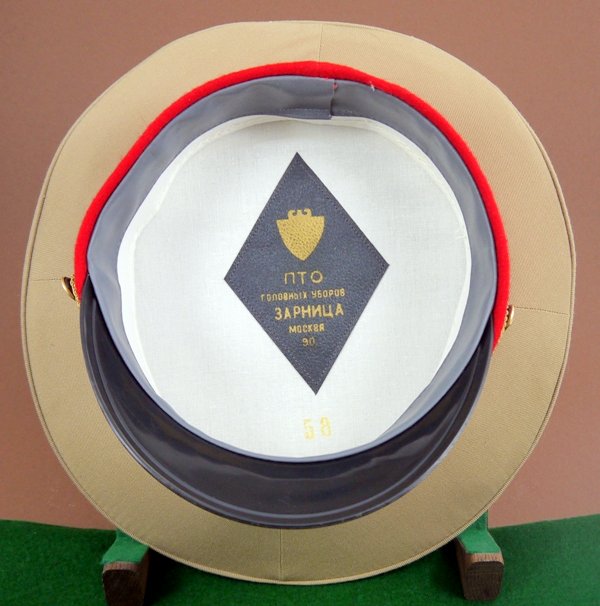 One of the favorite caps in my collection! Designed to complement the tan hot-weather uniform developed in the mid 1980's, this type cap first came to Western attention during MSU Akhromeyev's visit to the U.S. in 1988. During that visit, all Soviet Army and Air Force personnel wore versions of this cap. Air Force caps were banded and piped in light blue, while Army personnel wore red banded caps. During this visit, while most officers wore the M55 cockade shown here, at least one colonel wore the M69 officer's parade cockade on this cap. In the last few years of the Soviet Union, these caps were also occasionally seen during military visits and postings to Africa, Cuba and the Middle East. The major difference between this cap and the normal Army service cap is of course the color and fabric used for the crown - a light tan, cotton material. This crown is actually a removable cover, supported by a white padded framework as seen on most Naval officer summer caps. As you can see from the second picture, the inside is also "tropicalized", with a lightweight white lining. Rare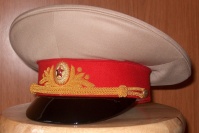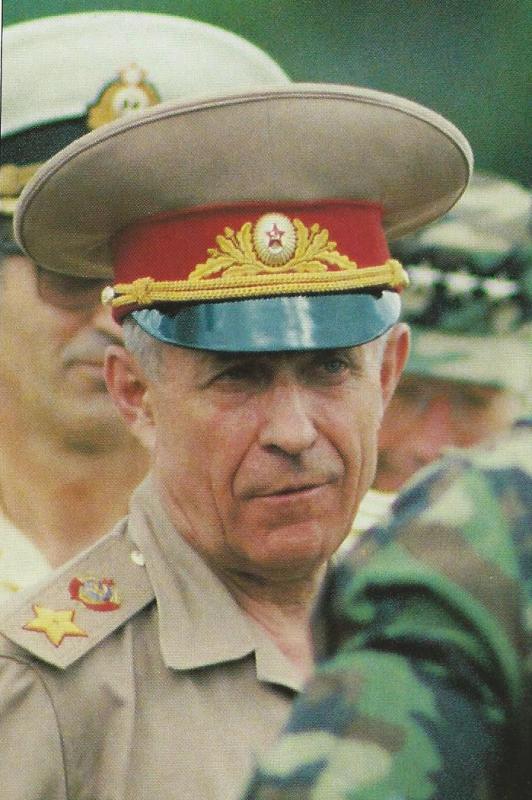 Motorized Rifle
General Tan Service
1985-1991
This 1985-dated cap is the general's counterpart to the one above and is indentical in most repects to it. Again, the crown is made from light tan cotton material and the band is red. The crown is not piped in red - as is normal for summer weight caps. The gold cords are attached with general's buttons and the all-gilt general's cockade is surrounded by gold wire embroidery directely on the band. I have also scanned a picture from "Soldiers Magazine" Dec 88 that shows MSU Akhromeyev wearing this cap with the unique Marshal's oak-leaf embroidery.
From the collection of Phil Mountjoy. Very Rare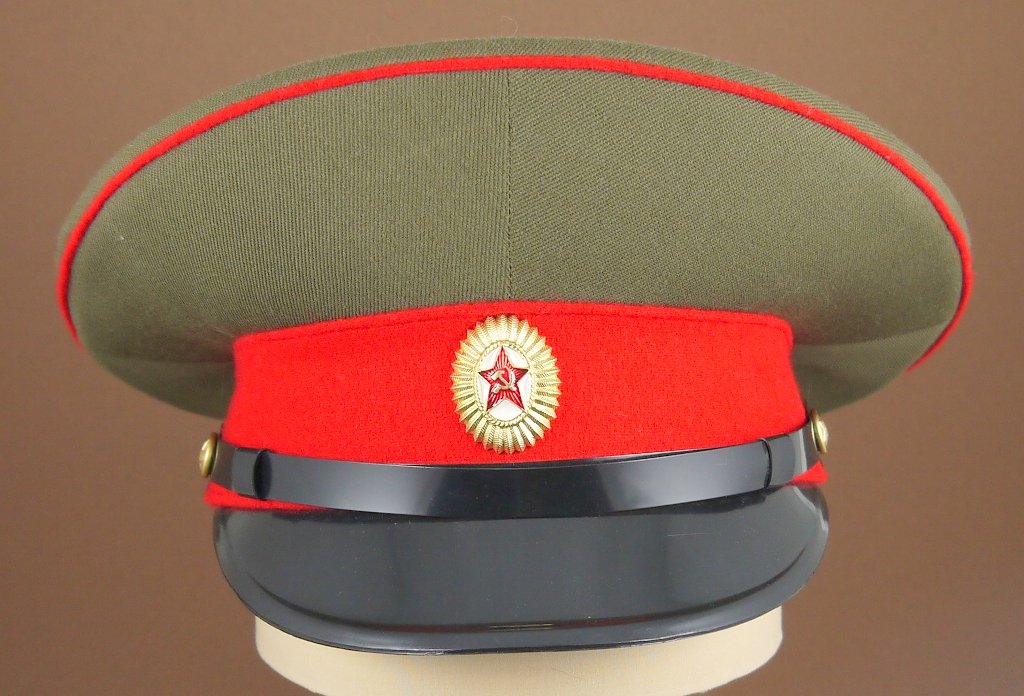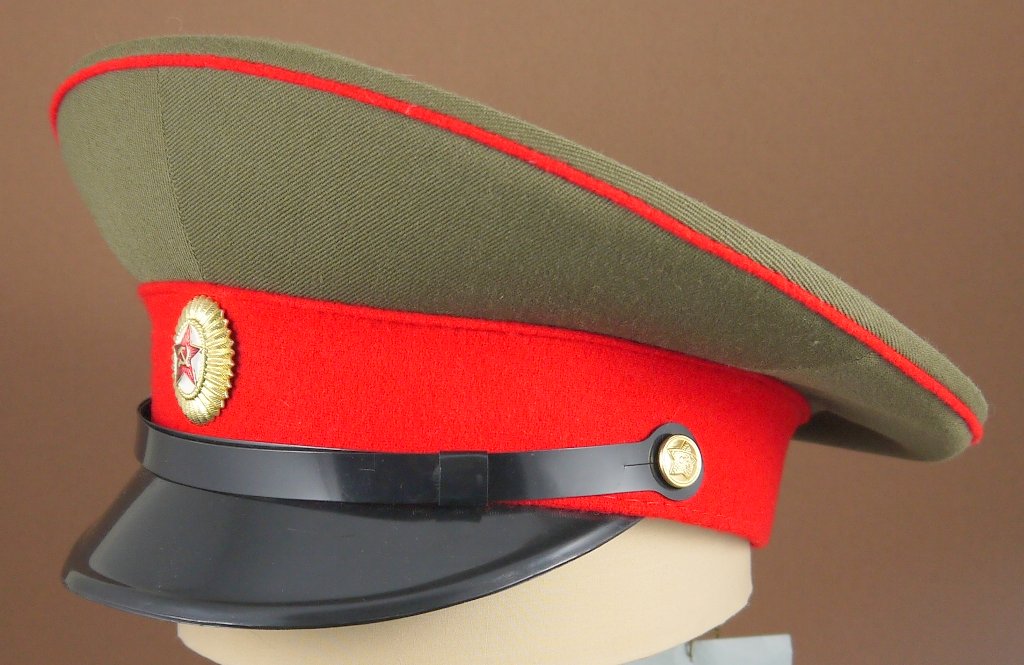 Motorized Rifle
Warrant Officer Service
1972-1991
Warrant Officers (in Russian: Praporshchiki) were created within the Soviet Army in 1972, in order to encourage conscripts to enlist for extended service following their two year mandatory service. The new Praporshchiki had many of the same priviledges as commissioned officers, including higher pay, benefits and the right to wear officer quality uniforms. This cap represents one worn by a Praporshchik of Motorized Rifles or by Medical/Veterinary/Justice/Intendance Praposrshchiki after 1980 (remember - these services changed their branch color from magenta to red that year). To add even more potential confusion, this same cap was worn by all officers colonel and below during the period 1969-1975 until they were finally authorized to wear gold cords with their service uniform. Although I only show this cap in red, Warrant Officers also existed within the Armor/Artillery/Special Troops - which had black velvet bands, and within other services using magenta. Besides the black strap (either oilcloth or plastic), the Warrant Officer's cap was exactly like that worn by other officers. Common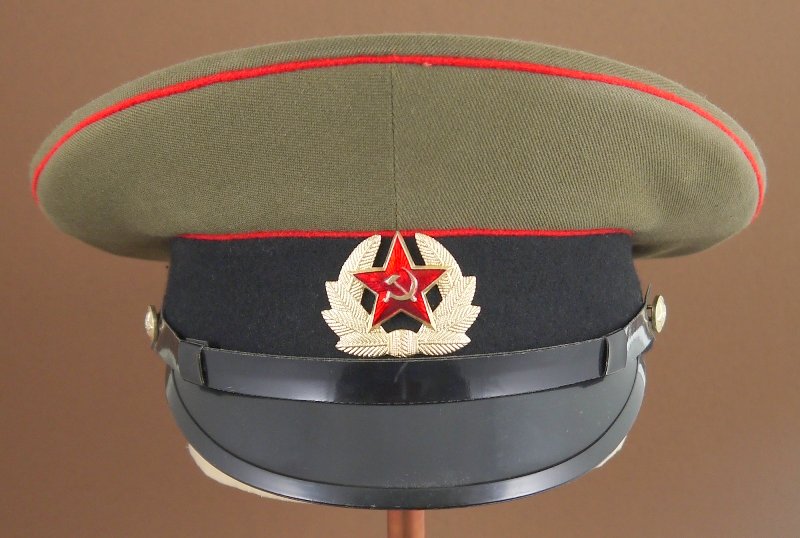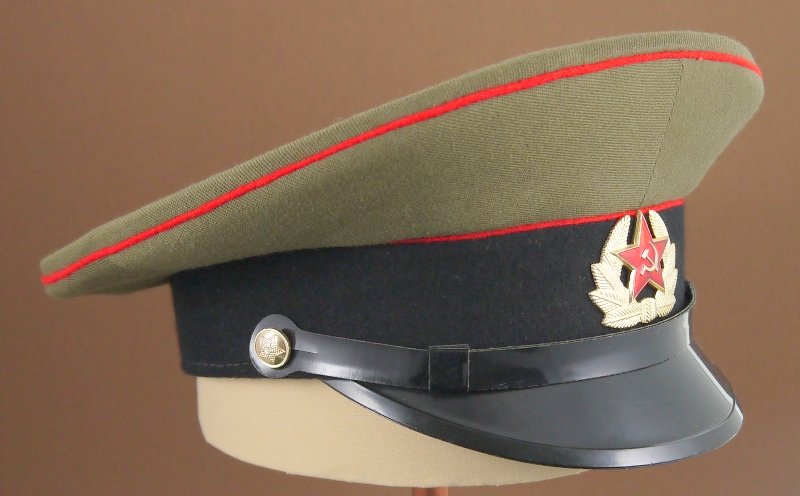 Armor/Artillery/Special Troops
Conscript Private/Sergeant Parade-Walking Out
1969-1991
In contrast to officers or extended servicemen, conscript privates and sergeants did not wear wave-green uniforms for parade or dress purposes. Instead they wore a khaki open-collared uniform similar in many ways to an officer's service uniform. However, conscripts were distinguished by a number of uniform elements. The most striking element on the late-issue conscript cap shown here is the cockade which was introduced in 1969. Originally cast in aluminum in two pieces, 99% of ones in use were one-piece (as shown here). Although the band and piping colors (black and red) are the same as for officers of Armor/Artillery or Special Troops, notice the band is made of simple wool - NOT black velvet. That was reserved for officers - although after 1980 more and more conscripts apparently purchased their own velvet-banded caps. The chinstrap is black plastic, as is the visor - marking it again as one produced in the 1980s. The buttons are gilt plastic Soviet Army type. Common

As mentioned above, the M1969 conscript parade cockade was originally produced in two pieces. However, by 1972 all production had switched to the one piece version and the two piece is now extremely rare. I've shown both types below for comparison purposes and a disassembled two piece on the right.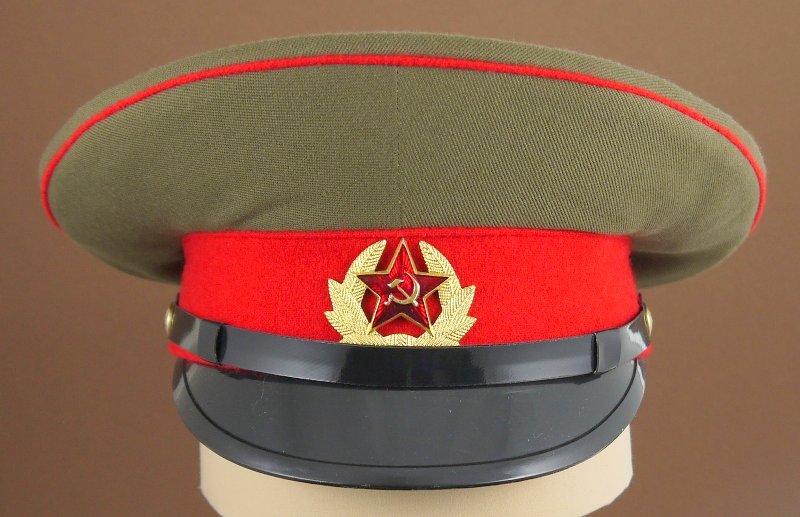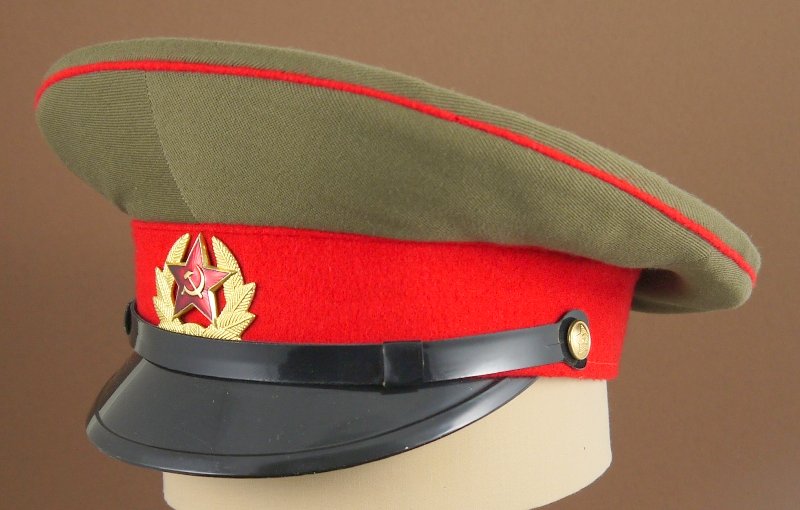 Motorized Rifle
Conscript Private/Sergeant Parade-Walking Out
1969-1991
This 1988-dated cap is identical to the above cap, except for the red band marking a conscript of Motorized Rifle troops. Magenta-banded/piped caps were not authorized in the 1969 regulations for conscripts although military officer cadets (Kursants) of the Medical/Veterinary/Justice and Intendance services were authorized to wear magenta-banded khaki caps until replaced by red in 1980. Common

"Kursants" were cadets at military officer commissioning schools (turning out junior lieutenants and lieutenants depending on the date and length of the school). These cadets wore modified conscript uniforms - including the khaki parade walking out uniform. However, they did wear officer khaki service caps, although with the special M69 conscript dress cockade (star in a wreath). That meant Kursants of Armor or Artillery academies wore black velvet-banded caps instead of the wool-banded caps worn by conscripts of those arms.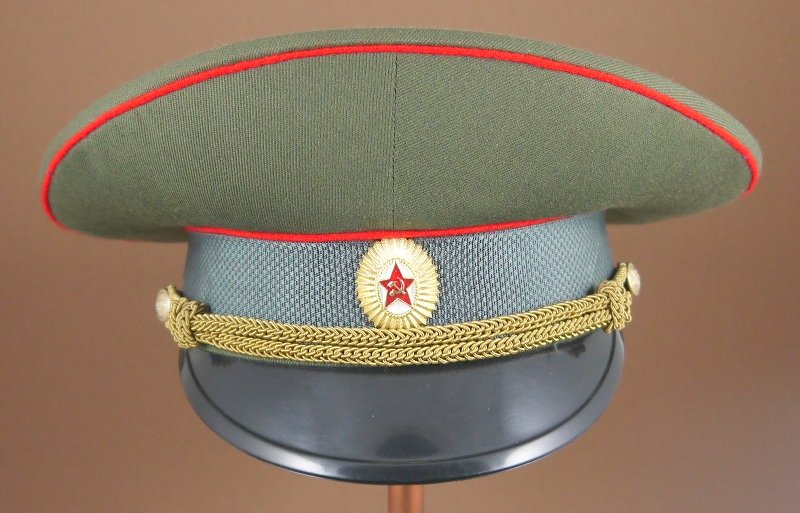 Russian Army
Transitional Officer Service
1992-1994
Finally, I have included this cap as an end-point to my display of Army headgear. Following the dissolution of the USSR in 1991, the Soviet Army began considering uniform changes to reflect the now "Russian" nature of the force. This process has been long and torturous; and is still evolving over 20 years later. One of the first elements of the conversion which started in 1992 was adoption of a new, more "western" looking uniform that would be used for both service and parade (with minor accessory changes). The uniform chosen was actually one being considered for adoption by the Army prior to the fall of Communism. This cap represents the first model accompanying this uniform. I acquired it in Moscow in June 1992, before its general issue to the Army (it was the first one my Russian escort officer had actually seen as well). The Soviet connection is still strong, as evidenced by the M55 Soviet officer's cockade and gold Soviet Army buttons. However, different branch-specific colored bands were now completely eliminated. The band now had a gray-green ribbon cover similar in concept to that found on the naval cap, but with a distinct "checkerboard" pattern (this ribbon band was dropped on later Russian caps). Red piping was standardized for all Army officers regardless of branch. The visor is plastic. In comparing the crown size of this cap with the Soviet M69 cap, you will find Russian uniform designers continued the trend observed in the late 1980s toward larger-size crowns. This one is over 1/2 cm higher in front and larger in circumference than a same-size M69. This strange desire to emulate South American militaries in creating umbrella-like cap crowns continued into the late 1990s with ever-larger caps. Finally, however, enough complaints came from within the military ranks for designers to scale back the crown and By 2010 Russia had returned to a crown size approximately that of the old Soviet M69. I've also added a picture of the inside of this 1992 cap - showing how the interior maker's label also evolved. The label is not dated (as is normal for post 1988 caps) and the sweatband is brown imitation leather - rather than the standard Soviet-era gray. Scarce